John Fulford
New Zealand Christian Hero


A Brief Biography
What a life to celebrate! The hymn writer Horatio Spafford once wrote "whatever my lot, Thou hast taught me to say, it is well, it is well with my soul" This I think sums up John well!
<>

The John I knew was an enthusiast for life and the workings of the Body of Christ – always sure to be at the next meeting and connecting with someone!
>
He was a tinkerer and fixer with nuts and bolts and bits and pieces for every occasion. He enjoyed the rugby (especially All Black/Springbok encounters) knew Narnia almost as well as he knew his Bible, enjoyed chocolate and Sci Fi and for many years was a keen runner. John was not known to readily buy new clothes preferring to show good stewardship of those he already had! John was almost always the last to leave the meeting even if he had occasionally nodded off in the middle of it!
John was born 28 May 1939 at Cape Town South Africa, the third child of Florrie and Watton Fulford. His Father was a stoker in the South African navy during World war 2 and was away for much of John's early childhood and died of TB shortly after the war ended. He was raised by his mother, a devoted Christian lady, an organist for their church, who instilled a strong ethic of regular and faithful commitment and attendance to the local church.
At the age of 6 he gave his heart to the Lord at a Salvation Army Sunday school; was baptised at 10 at his own church, the Church of Christ at Polo Rd Observatory in Cape Town. He had a transforming Christian experience at a Youth for Christ camp just before his last high school year. In his typical enthusiastic way he ticked all the boxes on the volunteer form that came round at the end of camp, although he was already elected to run the Christian group at high school and his own church youth group.
Needless to say he was a very busy young man for several months until his minister took him aside and said that the youth group would fail if he did not stop spreading himself so thin. So although he curtailed his involvement in those many Youth for Christ projects, an appreciation had been born in him for the wider Christian community and all the wonderful groups expressing God's love and salvation both at home and abroad, an appreciation that was to flower prolifically in the last 18 years of his life.
He studied at the University of Cape Town and graduated with a BA and a teaching Diploma. While at University he met Louise and determined to marry her when his education was complete. He taught for 8 months at a mission school in Zimbabwe and then went to Ozark Bible College in Missouri, USA and graduated after 4 years there with a B Theology (writing 2 letters per week to Louise throughout that time). One of his fellow students noted "His speech at the end of the school year, when he graduated, was all scripture. It was dynamic."
John and Louise were married on his return to Capetown in Dec 1965.
John became the minister to his home church in Cape Town for 6 years during which time 2 daughters were born. When Louise went into labour with Jenni, their first born she said to John, "the baby will be born tomorrow for sure" and he said "It can't come tomorrow – It's Sunday and I've got to preach!".(She arrived at 5.00 am and did not interrupt his Sunday schedule – Well done Jenni!!)
It was during this time in Capetown that John had the "crossfires" vision. John described it as this "It was the picture of a darkened world map. Capetown was in the middle of the picture and NZ on the far right and the Americas on thefar left. Suddenly NZ was all ablaze and the flames seemed to spread westwards across Australia, then to South Africa and then were met by other fires from UK and South America before continuing up through USA and Canada.
I felt God saying these were the crossfire for evangelism. It was as if a great movement would come out of NZ and that I would get caught up in it as it swept through." This vision became the framework for John's life and ministry.
While on a trip back to the States in 1971 the Fulfords travelled via Australia and NZ to attend a conference and visit family in those countries, and became aware of the need for evangelical ministers among the Churches of Christ in NZ. This materialised into a call to minister to the Church of Christ at Annesbrook in Nelson and the family immigrated to NZ in 1972. A fruitful 9 year ministry followed, during which time he became involved in denominational leadership and was elected president of the Churches of Christ for 1979 – the youngest person to hold that office. He also began to take an interest in promoting other groups such as The Bible Society, Radio Rhema etc
Another 9 year ministry followed at Mairangi Bay and his interest in parachurch and missionary organisations widened. In 1992 he retired from church ministry and devoted himself to encouraging and supporting these endeavours, which included another stint as Church of Christ president, and becoming involved on 16 committees. 7 years ago he partnered with Aaron and Debbie in starting a new church, now meeting at Swanson School.
The Fulfords and Ironsides then helped plant the Harvest church in Te Atatu with Ruth and I.
John's key role in this was the Friday prayer email he would collate – it was always a joy to get his call on a Friday afternoon! Just a few weeks ago we had the honour of having John come and share in our service for the last time. Many lives were touched as he shared much of the story I have shared with you today. I'm sure John would echo the words "to God be the glory great things He has done!"
Following the diagnosis of Multiple myeloma 5 years ago he saw the need to stop spreading himself so thin, and to concentrate on one specific ministry. He became the Prayer Coordinator for Vision NZ and has continued this until just a few weeks ago when his illness precluded him from attending any further meetings. He liked to see his role as fanning the flames of Christian endeavours.
We can see that John was very much the son of his father (both on earth and in heaven) His Father stoked the boilers on the South African warships, John fanned the flame of prayer to stoke the boiler of the church on earth!


--------------------------------------


"I have fought the good fight, I have finished the race, I have kept the faith. Now there is in store for me the crown of righteousness, which the Lord, the righteous Judge, will award me on that day – and not only to me, but also to all who have longed for his appearing" 2 Tim.4, 7-8.
You will all remember that John was diagnosed with Multiple myeloma in 2005 and has been under treatment for this ever since.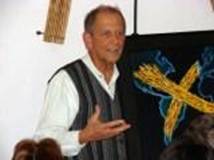 John passed into glory at 2.00 am on 28 November, 2009. He kept going to all his prayer events up until he had a large internal bleed near the end of October which put him into hospital for a week, thereafter he continued to minister to and bless the many people who came to visit and support him both in hospital and then at home. He never complained. He assured everyone that he felt content that he had done all that the Lord had asked of him, that he had had a good life and had made the most of the opportunities that came his way, and that he was ready to die. We count ourselves (the family) privileged to have been able to care for him at home and for 2 of us to be with him at the time of his passing. The funeral, conducted by our son-in-law Aaron, was a wonderful celebration of his life and witness and attended by a huge crowd. His life, his love, his devotion to the Lord, his faithfulness has impacted many many lives over the last 18 years since he devoted himself to encouraging any and every form of prayer and evangelism that was wider than one particular church. Love and support has poured in from all over the globe which in itself is testimony to the impact that John's "larger-than-life personality" had in the lives of others ever since he was a teenager.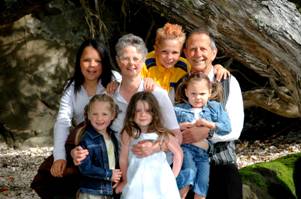 We grieve, but not as those who have no hope, for our hope is in the Lord and in the resurrection.
I will leave you with some quotes about John from the many cards that have filled my mail box day after day since his death – you may identify with some of them!
"…the wonderful witness that John brought to our Nelson community. His light shone brightly for his Lord".
"What a great gap John's passing has left….his cheery smile and positive faith have imprinted themselves in all our minds and hearts. What a blessing!"
"I so admired John's faith and steadfastness despite his physical circumstances. He always seemed to use every situation to speak to others of the Lord and was truly a Kingdom-hearted gentleman".
<>
"Our thanks and praise to God for a life well lived; many lives have been touched, taught, encouraged and blessed through

John

's faithful ministry"
>
<>
"With deep affection and love do we remember

John

, a remarkable and visionary man yet so down to earth, humble and committed to serve regardless whether it was amongst many or few! He was a joy to pray with"
>
<>
"

John

was always so supportive, so encouraging … such an inspiration to young ministers with his enthusiasm and joy of life! I'll never forget bunking with him among others at a minister's refresher – the humour was magic; a laugh a minute. And

John

showed us we can "smile at the storm"
> <>


"Many of us have been challenged by

John

's zeal for the Lord, His steadfastness and commitment"
> <>


"What a wonderful man he was, an example to us all"
>
"What a treasury of memories… he has left us all with a humungous legacy of constant and obedient service to our Lord"
"What came through in the service was it was not what John did, it was who he was that touched so many"

I am so grateful for the 44 years I had with him and ask for your prayers in going forward without him.
I hope that 2010 will be a happy and fulfilling year for you as you do all that the Lord asks of you.

With love,
Louise

Fulford