It's been encouraging to see how God has been using this ministry downtown Auckland to help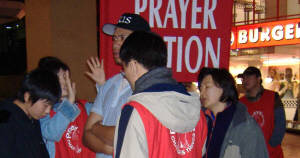 connect more and more people with God. Sure many don't care, some are "too busy", and others think they've "heard it all before". But week after week we've been encouraged by those who'se hearts God has prepared.
Several weeks ago there were several from Asia who committed their lives to the Lord through this weekly outreach. Last night a Polynesian young man made a strong commitment to follow the Lord and stop doing a number of things that were keeping him from God. Others have been healed, seen broken relationships restored and more. Find out how the Auckland, New Zealand Prayer Station was involved in bringing
New Life in Singapore
.
We also pray for other Christians who come to share their faith on Queen Street, downtown Auckland and try to be an encouragement to them. Last night one of them really encouraged us with these words. He said "a few weeks ago you guys didn't come, right?" I said yes, it was a really stormy night and some of the Prayer Station team volunteers asked if we could give it a miss that

week. He said "I sure hope you don't do that very often. Your team is so faithful week after week. We really missed your presence. The enemy was really strong that night."
I asked him to explain more, maybe give an example. He went on to explain how a group of young men confronted them and other Christians. These guys told them to leave the area, this was "our territory. We knew they had no legal or spiritual right to make that claim..." Of course they politely refused and the confrontation was more involved than what we need to explain here. He said "that's just one of many things that happened that night. So don't under-estimate the significance of your presence down here. We need you."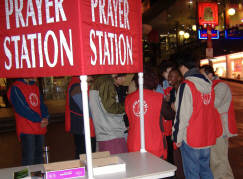 We didn't realize other Christian groups on the streets felt that way about the work of the Prayer Station team. We know God's presence can make all the difference. Please pray with us. We know this is important to God's kingdom. Join us in person if you can. If not, join us through your prayers where you are.
We are also in need of finances to help with some of the costs. If you would like to make a donation to help this ministry, you can send a cheque (payable to Across Ministries) to:
Across Ministries, PO Box 13-580, Auckland 1132, New Zealand.

Thank you,

David Hall