Email from a Singaporian medical specialist says it all
Dear David,
I would like to give thanks to God for using you to answer our prayers. Who would imagine that God would bring us to Auckland, New Zealand (on a short holiday) to answer our prayers through you?
Vivian and I have been married for 5 years and we were trying to start our family for the past one and the half year. We knew in our hearts that He would provide a child in his time. We prayed between ourselves, and close family members had too.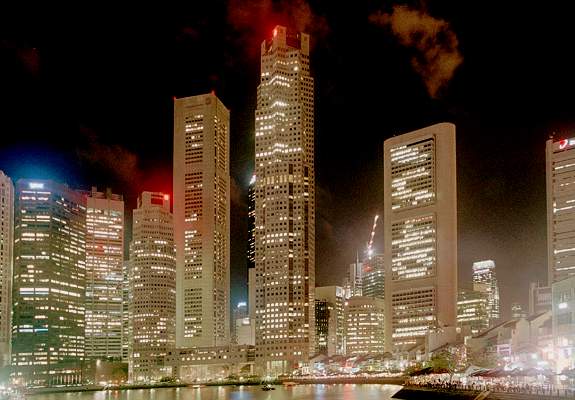 After a while, we became slightly anxious. Then, when Vivian was diagnosed to have polycystic ovarian condition which makes it harder to conceive, she started taking some hormone replacement therapy . After half a year on that medication, we stopped because there was no positive results.
Singapore at night

We decided to wait for His promises. There were many occasions when we lost confidence, thinking that it was His plan for us NOT to have a family.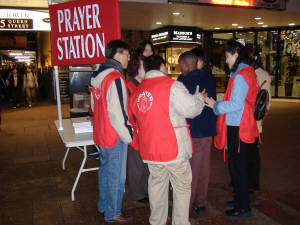 David, when you prayed for us that day in Nov. '04 - at the Prayer Station on Queen Street, Auckland - Vivian felt God's peace once again. She had always wanted someone like you to pray for us.
The Auckland
Prayer Station

is located on Queen Street,
opposite Shortland Street
- Friday nights.
Two months later we discovered God had answered
your prayers that night - and she was two months pregnant. Now she is into the 7 month of pregancy. Everything has been good. Mother and child are doing well. In the earlier days, there were so many things that we did or ate that may threaten the pregnancy (as we did not know that she was pregnant). God has been so good. He blessed us with this child despite of all circumstances medically or otherwise.
Thank you for your prayer. You have helped to move God's hand in providing this baby for us. Praise God for your prayers.
Thank you once again.
Bernard and Vivian Lee
Singapore