Some of the current Bridge to

Asia
Ministries
Korean Family Discipleship Training School

Deepen your relationship with God and open your heart to the nations

A Korean Family DTS is a
Discipleship Training School
for Korean adults from all walks of life, including leaders in the Body of Christ, young professionals and retired people. We welcome families as well as couples and singles. Students grow closer to God and one another as each matures individually and deepens their relationship with God.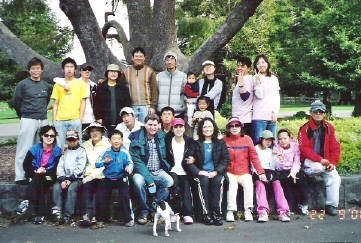 Our goal in the Korean Family DTS is to help you cultivate a loving relationship with God, and to challenge you to make Him known to others. We also seek to give our trainees cross-cultural experiences that will prepare them to take the
good news
of Jesus Christ to the nations. The Korean Family DTS begins with three months of classroom training featuring a variety of outstanding teachers. This is followed by a two-month outreach. Most of our outreaches are in the Pacific & Asia, where trainees usually live among the local people. Each outreach is unique, but many include caring for the needy, friendship evangelism, intercession and service projects.
Our school leaders and staff are spiritually mature men and women. They and the course speakers represent a variety of church backgrounds, but all share a common vision for spiritual training and missions. Their teamwork helps foster a dynamic interaction with trainees.
Starting Date :
Lecture Phase : 3rd of Sep - 25th of November. (12 weeks)
Date for Outreach : 26th of November - 18th of January. 2008 (8 weeks)

E-mail :
fmasian@hotmail.com

contact phone no : 64-9-256-9221, 64-21-1544-285




Home Cell Group

Each week a number of people gather together
for
food and fellowship.
Some are already believers, others have come to follow the Lord Jesus as a result of this
gathering.

Queen Street on weekends is normally loaded with people - Kiwi's, Maori, Pacific Islanders, Asians, and lots of visitors from many other countries. The
Prayer Station
is a means of helping connect people with God. Non-pushy, non-threatning, we simply offer free prayer to any who wants it. As we focus on people's FELT needs we find that it often opens the door to talk about deeper needs in people's life. Some have been healed of sickness, some have had relationships restored, some have found a job as a result of the prayers at the Prayer Station, and many others have been introduced to Jesus.

One of our volunteers recently said
I don't need to go to a bunch of countries around the world to be a missionary to the nations. Tonight the Lord had me talk to a person from Iceland, another from Great Britain, another from the Middle East and another from Asia - as well as Kiwis and some Pacific Islanders.
And this is typical week after week.

ESL Training (English as a Second Language)

New Zealand is a great place to come to learn English.
Bridge
to
Asia Ministries
knows the challenges and is committed to help people like you learn how to communicate with confidence in the English language.

Bridge to Asia - 7 Lenore Road, Mangere, Auckland, New Zealand