Aloha
Celia
,
Good to hear from you. Lydia forwarded your email. Glad to know there's
some interest in the history. Here's some background from my limited perspective.
Probably too detailed, but pick out what you think is useful.
YWAM Singapore Beginnings
'63
Loren & Darlene Cunningham
went on their around the world trip. Singapore was likely included in that. Who, what, where, for how long, etc. can still be had from them - IF somebody takes the time to get it from them before it's too late.
Jim and Jannie Rogers
led an "
Around the World
" team in '68... They spent about 2 or 3 months ministering in Indonesia, then on to the Philippines, so they may have spent some time in Singapore?
Ross Tooley
said, "Their goal was to challenge local young people to get involved in sharing the gospel and as a result see YWAM start up in various Asian countries, which is in fact what happened."
By 1970
Floyd McClung
took over the leadership of the "Around the World" team, previously led by Jim & Jan Rogers. They stayed in Singapore for two weeks early that year, but it was only for R&R, not ministry. Six from that team went to Thailand, including
David Cowie
who is normally credited as the founder of YWAM Thailand.
Warren Fountain
, Jeff's older brother from Auckland NZ, was also part of that team. From there they went to India and Sri Lanka. The Dilaram ministry eventually started up...
Ross Tooley
had a team with him in Singapore in the middle of 1970 for two months. He shares about YWAM in Singapore during those years:
"Among those on the team included a guy from Auckland, NZ named

Dave Wallis

. We would work with one local church at a time for two weeks, providing training and taking the local Christians out witnessing door to door. We had as many as 100 out witnessing at a time",

Ross

said. "It was during this time that we got to know Brother

Goh Ewe Kheng

from the Church of Singapore, and also worked with that church.

Margaret

and I continued to develop a friendship with Brother Goh.

"Visas for Singapore were very difficult to get in those days so we made regular trips across the border into Malaysia as necessary.

Debbie Seaward, Mike Bare', David Wallis, Kel Steiner

and a girl from Canada were among the team members at that time. Even

Fred Seaward's wife

, who speaks fluent Chinese, often joined us in our witnessing. From Singapore the team went to the Philippines. David Wallis went on to PNG and teamed up with

Dean Sherman, Tom Hallas

and

Kalafi Moala

.

"From May '71 to May '72 we were back in Singapore, though most of our focus during that year was on Malaysia. But we did work with a number of the Singaporean churches during that time, again it was primarily providing some training in evangelism and taking them out witnessing door to door. From there we went back to the Philippines and pioneered the YWAM base there.

"Later in the '70's there was a couple working with

Brother Goh

's son-in-law,

Jimmie Teo

, under the name "Mission Group" with a focus on developing a boat ministry. This was considered a YWAM ministry. But it didn't continue."

Wally Wenge
and
Loren Cunningham
- with the help of Brother
Goh Ewe Kheng
- got the YWAM name registered in 1973 when they thought they were going to get the Maori (a New Zealand ship) and have it registered in S'pore.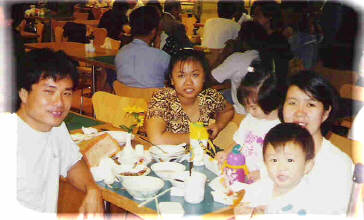 But it wasn't until the summer of 1980 that establishing an ongoing YWAM base IN Singapore became someone's priority.


Kalafi Moala
had just taken on the role of the
YWAM Pacific & Asia regional director
. There were only a few YWAM bases in the region at that time
(Australia, NZ, Samoa, Japan, Micronesia, the Philippines, and more recently Thailand and Hong Kong.)
But Kalafi went on to pioneer - or facilitate the pioneering of - quite a few of the key bases in the Pacific & Asia region.
Picture:

Sam Yeo

and family
Kalafi had gathered quite a few to attend a
School of Evangelism
in Kona, Hawaii - that was the Spring of 1980.
Lydia
and I were on staff of that school, serving as his assistants. A few months before the start of the SOE, over pizza late one night in Kona, he invited Lydia and I to lead the first DTS in Indonesia that summer, then "pioneer a YWAM base in Singapore" after the Indonesian DTS lecture phase. So we prayed and felt it was right to accept the challenge of his invitation.
Personal note: God had put an interest and even a love for Singapore on my heart as a youngster, though I really knew nothing about S'pore at the time. And Lydia's parents were part of the Dutch culture in Indonesia - before moving to Holland and then the States. Her father spent time in Singapore's Changi prison when he was in the Dutch military and taken by the Japanese as a POW during WWII.

There were five outreach teams from that SOE.
Tom & Cindy Bauer
led the outreach team in Singapore, working primarily with the
Church of Singapore
. Lydia and I - and several others - led the first Indonesian DTS. It had 100 students from 12 tribes around the country. At the same time there were also teams from that SOE working in Jakarta, Surabya and Bali.
After the Indonesian DTS lecture phase three other DTS staff (
Joyce, Jana
and
Georganne
) and two of the students (
Willie
and
Wilma Mandagi Beach
) joined us to help pioneer a YWAM base in S'pore.
Brother Goh
graciously let us stay in the house he owned next door to his in Siglap. It was only 3 or 4 bedrooms, but we were often overflowing.
(After we left he had the house remodeled, going up another story.)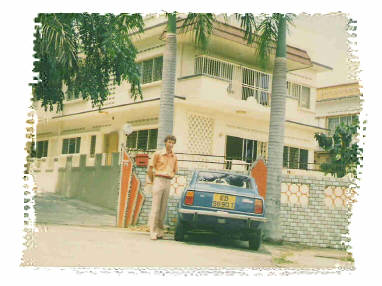 More than one key Christian leader said they didn't think we would be able to set up a permanent YWAM base and run YWAM schools in Singapore. We were also told we wouldn't likely get visas and we wouldn't be able to have our first child born there because of the government's policies at the time. But I began the process, despite their caution, and started making contacts and doing the paper work for each of those areas - plus the paper work to legally produce a publication. The same "mountain of red tape" was involved in getting government permission to put out a one page newsletter as to put out the
Straits Times
.
Picture: Kiwi

Peter Whiteley


from Tauranga in front of the
YWAM Singapore base on Fidelio St.
People prayed. We did the homework.
God did "the impossible"
. Within six months we had (1) work visas, (2) government approval to run the YWAM training courses, (3) gov. approval to put out a publication of whatever size we wanted to produce, AND (4) our first baby -
Jonathan
- was legally born in Singapore.
Neville Wilson
(From Fiji & New Zealand) helped lead the first DTS in Singapore.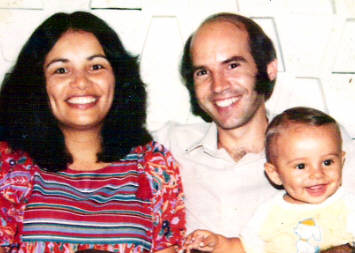 The first year was quite a struggle. Our first Christmas there was the most difficult we've ever experienced. Yet we treasure it in our hearts. We struggled financially. But God was faithful!
There were some misunderstandings with some key Christian leaders. We were essentially blacklisted by some of the influential leaders. Some rumors, half truths and other misconceptions
(relating to K's divorce and their interpretation of some
YWAM teachings
they heard about from other parts of the world)
were circulating among Christian leaders.

Picture:

Lydia

,

David

and

Jonathan
One key pastor wanted to use us to help pioneer one of his new branches and talked to
Kalafi
before we got there about our team doing that. I knew that would close the door to many other fine churches if we only focused on working with just one church. And the team was not comfortable with that pastor's expectations.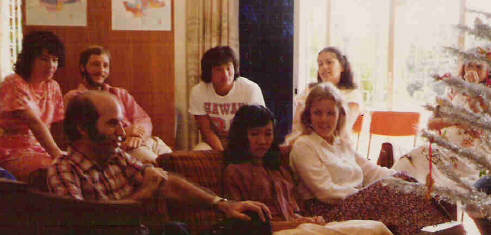 So he was very disappointed that we didn't jump in to help him with that project. And that closed some doors and led to misunderstanding among some key clergy.

Picture: YWAM staff meeting,
circa Christmas '81


Leda Black, Dave Hall, Frank Gobal, Sam Yeo, Georganne, Jana, Lydia



Kalafi had given clear marching orders to "just focus on evangelism". So I didn't do what I had done in places I had previously pioneered: work at developing strong relationships with key Christian leaders. After realizing the almost fatal mistake of taking his instructions too literally, I was encouraged to focus on some key relationships. That really paid off.
After the first year
Kalafi
and
Tom Hallas
sent some additional team members and with their assistance we rented the large house on Fidelio Street in Opera Estates (pictured above). Kalafi and I went together to meet face to face with several key Christian leaders to sort out the misunderstanding. These leaders were very gracious and helped sort out the misunderstandings.
Frank Gobel
and
Robin Disque
joined me in forming a leadership team. We got involved with the
Evangelical Fellowship of Singapore
, some inter-church projects, and the doors started to open to preach and minister in various churches. During our third year in Singapore - 1982 - we were
averaging ministering in 22
churches, youth groups and camps
a month
. We couldn't accept all the invitations. So God really turned things around. I really enjoyed that part of the ministry in Singapore - as well as just about every other part.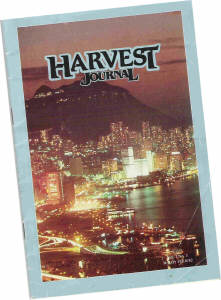 Picture: Harvest Journal mini-magazine, number three

We stayed involved in
personal evangelism
(downtown, selected high-rise neighborhoods and the red light district). And we started going to some ships one day a week. A number of people came to the Lord from various nations through that
Seaman's Ministry
. The
Upper Room meetings
were impacting many lives each Thursday night. We ministered periodically at
Teen Challenge
and other ministries as well as in some of the prisons and work-place & home fellowships. We were distributing
Christian books
and YWAM teaching on
cassettes
.
The
Harvest Journal
mini-magazine we started had a circulation of 10,000 with some churches asking for more than twice as many as we could provide. And the door was wide open to expand the 32 to 48 page quarterly into Malaysia and beyond.
A side note: Over a decade later - just before we moved from Hawaii to New Zealand - I met a Chinese girl from Penang, Malaysia in Hawaii. When she heard my name, she got excited and said:

You're the reason I'm in missions today.

She went on to explain how she got a copy of the

Harvest Journal

in Penang and went to the DTS in Sinapore as a result of the ad for the DTS in the magazine. She actually arrived in S'pore the day after we left in '83. After her DTS she spent a number of years as a missionary in Taiwan and was taking a course at the

University of the Nations

in Kona in preparation of spending the rest of her life as a missionary in China. Thank you Lord for letting me meet her and see some of the fruit of the

Harvest Journal

.
We hosted some
YWAM teams
from Hawaii, New Zealand and Australia in cooperation with various Singapore churches,
provided the legal
covering
and housing for the start of a couple other ministries, including
Bethany Fellowship
and
Gospel Recordings
, sponsored some
seminars
with speakers like
Dean Sherman
, and
sent outreach teams
to Indonesia, Malaysia, Thailand, and beyond.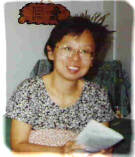 We had several
Discipleship Training Schools
that helped produce some key Christian leaders during those early years *.
I got an email a few days ago from one of those students I had lost track of. He has been living in
Europe for many years and God is using him to reach many of his work-mates with the Gospel. That has resulted in a strong home-fellowship and he's sending some of them to
do a DTS in other countries.

Angela

(pictured left) went to help pioneer YWAM in India,

Rosalind
(pictured right)
Joyce

and others went to Taiwan and China
...
The
YWAM Malaysia
national director was one of those students.
Wendy
from India was another. She's making her mark not only in India but Internationally through the GLT (YWAM
Global Leadership Team
) and other projects.
Sami Liu
gives oversite to much of what YWAMers are doing in central Asia in
Fronteer Missions
.
Gary & Carol Lang
continue to touch lives for the Lord through their involvement in the IT industry in other countries.
Yeo Lei Hok
(see top picture), who came to the Lord through our
friendship evangelism
, is still very involved with his family in a good Singaporian church. Others are serving on the pastoral staff of mega-churches in Singapore and Malaysia.
By the end of 1982 we had a
very international team of over 40 YWAM staff
. In the spring of '83 we turned the work over to you and
Matt
to bring more of a focus through the
FEET
ministry and take YWAM S'pore up to a new level. And you did! Thank you both !!!
[ Lydia, Jonathan and I went back to Hawaii and served in various capacities for the next thirteen years with the developing

University of the Nations

on the Big Island, before making our move to New Zealand. And the rest - as they say - is history. ]