Saturday, December 26, 2009
Evangelist Winkie Pratney 'doing well' in New Zealand hospital after suffering an aneurysm
By Dan Wooding
Note from David B. Hall
I visited Winkie in the hospital last night (Monday NZ time; Sunday in the States), shortly after hearing of his aneurysm. For the most part he was his same cheerful, friendly, energetic self. But there was the obvious loss of memory.
Please join us in praying for a quick and full recovery.
NEW ZEALAND (ANS) -- New Zealand-born evangelist, Winkie Pratney, has suffered an aneurysm during a visit to his homeland.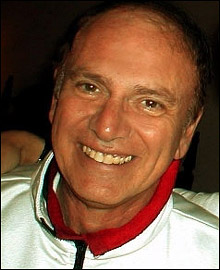 Winkie Pratney
He is being kept at a New Zealand hospital and is said to be "doing well" by his son, William Pratney.
"No surgery seems to be needed," said William on Winkey's blog (http://winkiepratney.com/winkie_pratney_blog)
"He has just eaten a meal and they said his brain will probably fix itself. He will be kept in observation for 3 days.
"He contracted a superbug, so has been moved to a private room. Praise God and thank you everyone for your prayers and messages."
About Winkie Pratney:
Logging some 150,000+ miles a year and often speaking with over half-a-million young people annually, Winkie has wide experience in youth work. His technical background in both science and the popular music culture has given him a unique insight to the particular needs of a media-dominated technological society, and his constant monitoring of youth trends combined with continual feedback from young people themselves has helped him interpret these for those with a vital interest in the welfare of the young.
Besides annual leadership training seminars he has for three decades helped challenge and inspire young people to holy and happy living. Winkie is involved with helping and training young people of all ages and works with many leading international youth movements including Campus Life, Champions For Christ, Operation Mobilization, Masters Commission, Youth With A Mission, Young Life, Youth Alive, and Teen Challenge. He conducts yearly leadership training for youth workers in Europe, North America and the Pacific, and has been involved as an advisory and consultant to church, civic, educational, government and social welfare leaders on the needs and problems of modern teenagers. He occasionally speaks in churches, but his primary call is to students.
A frequent featured speaker and guest on national television talk shows, his audio and video-tape lectures are carried by many effective outreach ministries as part of their training. Winkie has authored more than twelve books including youth manuals like the best-selling Youth Aflame!, Handbook For Followers Of Jesus, books on contemporary and historical issues like Devil Take The Youngest, Revival - Twenty Centuries Of Vision and Visitation, Dealing With Doubt and evangelistic and apologetic works like the contemporary devotional theology The Nature And Character Of God.
He and his son Bills' training work for GenXers The Daniel Files and other training materials are available free on-line via the Internet.. His "scholarship on fire" approach has resulted in the conversion of multiplied thousands of teenagers, the creation of powerful new ministries and the continual encouragement of multitudes of young believers and their leadership.
Winkie is a New Zealander and maintains a low organizational profile. He is sometimes known to reply to mail, (especially from teenagers) but his frequent travels discourage lengthy correspondence and he leaves personal counseling to pastors and churches. He with his gracious wife Faeona and son William live sometimes in New Zealand and visit often Australia, Canada, Europe and the USA.
For updates, go to http://winkiepratney.com/winkie_pratney_blog
---
Dan Wooding, 69, is an award winning British journalist now living in Southern California with his wife Norma, to whom he has been married for 46 years. He is the founder and international director of ASSIST (Aid to Special Saints in Strategic Times) and the ASSIST News Service (ANS). He was, for ten years, a commentator, on the UPI Radio Network in Washington, DC., and now hosts the weekly "Front Page Radio" show on KWVE in Southern California and which is also
carried on the Calvary Radio Network throughout the United States. The program is also aired in Great Britain on Calvary Chapel Radio UK. Wooding is the author of some 43 books. Two of the latest include his autobiography, "From Tabloid to Truth", which is published by Theatron Books.