The French annexed various Polynesian island groups during the 19th century. In September 1995, France stirred up widespread protests by resuming nuclear testing on the Mururoa atoll after a three-year moratorium. The tests were suspended in January 1996.
Tahiti inIncludes five archipelagoes (4 volcanic, 1 coral); Makatea in French Polynesia is one of the three great phosphate rock islands in the Pacific Ocean - the others are Banaba (Ocean Island) in Kiribati and Nauru
Location
: Oceania, archipelagoes in the South Pacific Ocean, about one-half of the way from South America to Australia.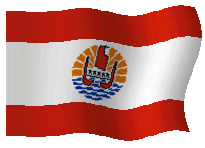 Comparative area:
slightly less than one-third the size of Connecticut
Natural Resources:
timber, fish, cobalt, hydropower
Population
: 270,485 (July 2005 est.) the majority live on Tahiti, 16% of the total population living in Papeete. This population is made up of approximately 83% Tahitian, 5% Asians, Europeans.
| | |
| --- | --- |
| Ethnic groups: | Polynesian 78%, Chinese 12%, local French 6%, metropolitan French 4% |
| Religions: | Protestant 54%, Roman Catholic 30%, other 10%, no religion 6% |
| Languages: | French 61.1% (official), Polynesian 31.4% (official), Asian languages 1.2%, other 0.3%, unspecified 6% (2002 census) |
Climate:

Tahiti enjoys a fairly even year round climate with daytime temperatures usually around 28-33 degrees Celsius. This drops slightly at night. From November through to May the weather is warmer with higher levels of humidity, from June to October the weather is cooler and drier. Rainfall is heaviest in the warmer season. Average maximum temperature in Papeete is 33°C in January, 30°C in July.

Economic Overview: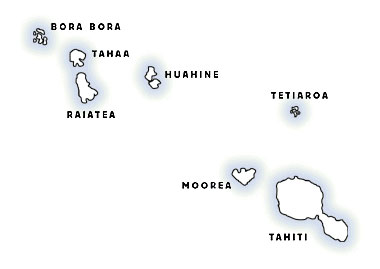 Since 1962, when France stationed military personnel in the region, French Polynesia has changed from a subsistence agricultural economy to one in which a high proportion of the work force is either employed by the military or supports the tourist industry. With the halt of French nuclear testing in 1996, the military contribution to the economy fell sharply. Tourism accounts for about one-fourth of GDP and is a primary source of hard currency earnings. Other sources of income are pearl farming and deep-sea commercial fishing. The small manufacturing sector primarily processes agricultural products. The territory benefits substantially from development agreements with France aimed principally at creating new businesses and strengthening social services.


Agricultural Products:
coconuts, vanilla, vegetables, fruits; poultry, beef, dairy products, coffee
Export Partners:
France 36.6%, Japan 22.7%, US 16.1%, Niger 13%, Thailand 4.1% (2004)
Import Partners:
France 47.6%, New Zealand 8.9%, Singapore 8.4%, Australia 8.4%, US 7.1% (2004)
Telephones
, main lines: 52,500 (2002)
Radio Broadcast Stations:
AM 2, FM 14, shortwave 2 (1998)
TV Broadcast Stations:
7 (plus 17 low-power repeaters) (1997)
Internet Users:
35,000 (2002)
Airports
: 50 (2004 est.)