URGENT NOTICE--RECALL


By Rolland Rich

The Creator has issued an urgent recall of all models of mankind, male and female. Failure to get the necessary replacement part will eventually result in the tragic fate of all unmodified models.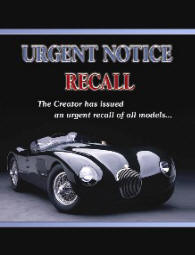 The flaw has been detected and evident in many minor incidents such as cold hearts, hard hearts and heartlessness (which is not the absence of a heart, but a brutal heart).
In some models the flaw is imperceptible, or nearly so. But since men and women are designed to last for eternity, the Creator is not willing to risk the chance of one flaw blowing up a million years from now in His perfect Heaven. That first million years will be like the twinkle of an eye compared to the millions of millions of years yet to come.
The Creator knows that no one can repair his or her own heart, so He has made possible a complete change of heart through a process called "being born again". There is no charge for this new heart although it is priceless. The Creator's son Jesus actually paid the price to make it possible to offer a new heart to everyone. Don't think you can make a few adjustments and get by. The Creator knows that there is no simple fix. A complete heart change is absolutely necessary. All unmodified models will end up in the trash pit along with the sour-grapes enemy of the Creator who triggered the failure.
It is urgent that you don't fail to respond to this recall and God's gracious renewal offer. All you need to do is admit that you are defective and need a new heart. Ask God to forgive you for trying to go it alone and botching up, and ask Him to give you that new heart.
In the Bible (Ezekiel 36:26) God says "I will give you a new heart and put a new spirit in you: I will remove from you your heart of stone and give you a heart of flesh."
I pass this advisory on to you as your friend,
Rolland Rich
- 562-694-5405.