PAT BOONE
TO RECEIVE LIFETIME ACHIEVEMENT AWARD

By Ginny McCabe
Special to ASSIST News Service

Wednesday, March 1, 2006
BEVERLY HILLS, CA
(ANS)
-- Legendary recording artist and actor, Pat Boone, is slated

to receive the Lifetime Achievement Award at the 14th Annual MOVIEGUIDE® Faith & Values Awards Gala tomorrow night, (March 2), at a black tie affair, which will be held at the Beverly Hilton Hotel in Beverly Hills, California.
"Pat has been a supporter of MOVIEGUIDE® since its inception and we are thrilled to bestow this honor on him, " said Dr. Ted Baehr, president and publisher of MOVIEGUIDE® and founder of the Christian Film and Television Commission. "He is a true legend in every sense of the word and has inspired the lives of millions via his positive outlook and message of family compassion, understanding, hope and faith - everything that the MOVIEGUIDE® Awards stand for."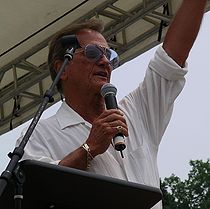 With more than 45 million albums sold, and 38 top 40 hits, Boone has been recognized by Billboard Magazine as one of the top10 recording artists and has sold more records than any artist, with the exception of Elvis Presley. He has earned numerous awards and accolades throughout his career, and in 2003, the Gospel Music Association also honored Boone for his accomplishments when they inducted Pat into the GMA Hall of Fame.
He was born Charles Eugene Patrick Boone in1934 in Jacksonville, Florida. As a descendent of American frontier hero Daniel Boone, he attended high school in Nashville, Tennessee. After graduating, he married Shirley Fole, the daughter of country star Red Foley. In 2004, he made another mark in history for the 50th anniversary of his 50th year in show business, and that same year, he celebrated his 51st wedding anniversary with Shirley. He and his wife are the parents of four daughters, and are the grandparents to fifteen grand children.
Prior to graduating from college at Columbia University, Boone had already made appearances on the Arthur Godfrey Show, and was the youngest performer ever to be granted his own weekly musical variety show on ABC television.
Today, Boone continues to be well respected by many as a best-selling author, successful entrepreneur, chart-topping recording artist, family man and legendary humanitarian, and many agree that he is a legend in American history. As a legend in every sense of the word, he has inspired the lives of millions with his positive outlook and inspirational messages.
MOVIEGUIDE® is a production of Good News Communications and the Christian Film & Television Commission. The MOVIEGUIDE® Awards recognize the 10 Best family friendly and Mature Audience movies, as well as, a television program of the previous year. It also awards the $50,000 Epiphany Prizes sponsored by Sir John Templeton and the John Templeton Foundation.
---
| | |
| --- | --- |
| Ginny McCabe is a Cincinnati, OH native. She is an entertainment and feature writer for The Middletown Journal and Journal News (daily newspapers). Ginny has written articles for a number of other magazines and websites including American Songwriter, Bassics, CBA Marketplace, Christian Retailing, NRB Magazine, HM Magazine, Relevant Magazine, BGEA, Lifeway.com, Almenconi.com, Assistnews.net, Crosswalk.com, Infuze Magazine and Christian Music Planet, among others. Ginny has authored three books: Some Kind of Journey on the Road with Audio Adrenaline, Living the Gold-Medal Life: Inspirations from Female Athletes, and most recently co-authored her third book, Changed: True Stories of Finding God Through Christian Music, and she has completed a fourth book, which is scheduled to release in 2006. She also contributed to Rock Stars on God: 20 Artists Speak Their Minds About Faith by Doug Van Pelt. With over 10 years of marketing and public relations experience, Ginny also works as an independent publicist at McCabe Media. To contact Ginny, email her at gmwriteon@aol.com, or visit www.gmwriteon.com. | |