Tuesday, July 13, 2004
A POLISH PRIEST WHO IS BRINGING LIGHT AND LIFE TO THE CATHOLIC CHURCH
He is also one of the organizers of Festival of Life outreach in Wisla
By Dan Wooding in Poland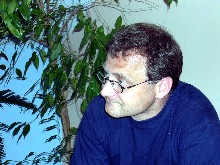 WISLA, POLAND
(ANS)
-- You would not expect a Polish Catholic priest to be part of the organizing committee for a festival put on by local Protestants and an American Evangelical group, but Richard Nowak, a priest with the Light-Life Movement in Poland, says he is thrilled to be working on this unique outreach. (Pictured: Fr. Richard Nowak).
"I've been a priest for 15 years now and I feel especially called to work on the unity of all the believers here in this area," he said in an interview. "I have to say that at the beginning, I was really surprised to find that there didn't seem to be any people trying to get people together. There were some kinds of meetings, but it wasn't working well. I was always waiting for something like this Festival of Life to happen. I believe this is really God's grace that certain people met at a certain time in a certain place and shared the same vision. Now we can all work together in the name of Jesus Christ."
The Festival of Life is being led by Mike MacIntosh, the senior pastor of Horizon Christian Fellowship in San Diego, California from July 15-18 in the picturesque town of Wisla in Southern Poland.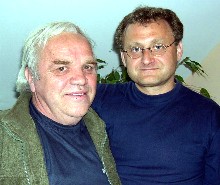 And joining the teams out on the streets handing out flyers and tracts and sharing their faith will be Fr. Nowak. (Pictured: Fr. Richard Nowak with Pastor Tadeusz Pilch of Marantha [Pentecostal] Church in Wisla, Poland).
He then explained how he first met Christ as his savior. "I was born 40 years ago and I grew up in a traditional Catholic family," he said. "But Jesus gave me a separate path and I wanted to know Him personally in my heart. I also wanted to find a positive side of life. I tried to find the solutions to combine these two. I was looking for different ways and one day I met Jesus and through a movement in the Catholic Church called Light-Life.
"God has given me new challenges in my life and I definitely want to follow him."
Fr. Nowak says that he loves to lead people in prayer and also praying for the sick. "Many times I have seen God perform miracles by healing the physically sick," he said.
Then talking about the Life-Life Movement, he said that it began about 50 years ago and was then called the Oasis Movement. "Today," he said, "there are about 100,000 people involved in our movement."
He said the two main goals of it are:
To meet the Living Jesus and experience a living faith
To renew the Church as the living fellowship of the church with charismatic gifts and with service to other people.
This priest is certainly bringing both Light and Life to many in his home land and says he will continue to work with his friends from many different denominations in spreading the Gospel to all the people of his land that has seen so much pain over the years.

Note: If you would like a live radio or TV update on the Poland outreach, please call Dan Wooding on his mobile there at +48-698-986-558. Before calling, please, don't forget to check the time difference please!
| | |
| --- | --- |
| Dan Wooding is an award winning British journalist now living in Southern California with his wife Norma. He is the founder and international director of ASSIST (Aid to Special Saints in Strategic Times) and the ASSIST News Service (ANS). Wooding is the co-host of the weekly radio show, "Window on the World" and was, for ten years a commentator, on the UPI Radio Network in Washington, DC. Wooding is the author of some 42 books, the latest of which is his autobiography, "From Tabloid to Truth", which is published by Theatron Books. To order a copy, go to www.fromtabloidtotruth.com. | |

ASSIST News Service (ANS) - PO Box 2126, Garden Grove, CA 92842-2126 USA
E-mail: danjuma1@aol.com, Web Site: www.assistnews.net