Joe and Judi Portale
37 years of service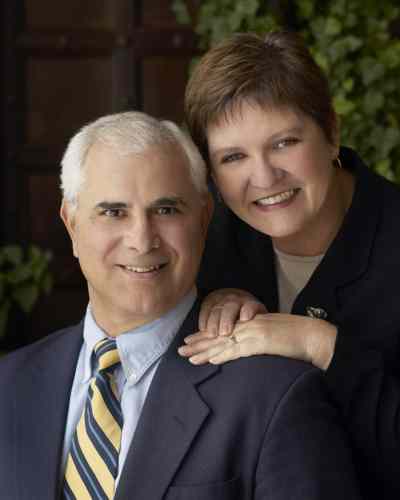 By Beverly Thomas
Joe and Judi Portale have touched thousands of lives during their 37 years in Youth With A Mission [YWAM]. This amazing couple has pioneered many ministries, among them: YWAM French Ministries in Europe, a School of Evangelism [SOE] to train French-speaking young people, and YWAM in French West Africa.
Joe and Judi launched YWAM Mercy Ministries in Thailand and worked in Greece for two years to help the M/V ANASTASIS, YWAM's first Mercy Ship, get underway. Coming to Kona they helped pioneer the Pacific and Asia Christian University, which is now the University of the Nations.
On the Kona campus Joe is International Associate Dean for the college of Christian Ministries, serves on the Kona Council and assists the training team which oversees all our schools.
Judi works in the Admissions Office/Student Services. She answers the phones including the U of N 800 number, answering questions not only concerning the Kona campus but general questions from prospective students and parents about YWAM around the world.
Born in Bonne Terre, Missouri, Judi one of six children says, "Our family's stability came from my grandparents who were pioneer pastors. They had a strict code, but because they were always so loving and encouraging, we never felt religion was do's and don'ts."
When Judi was five her family moved to California and at 13 she accepted the Lord. In high school she was very involved with Youth for Christ and later went to Bethany Bible College in Scotts Valley, California where she met Joe.
Joe and his three siblings were born in Cleveland, Ohio. His earliest memory is riding a tricycle with his sister on the back, pretending they were on their way to the unreached people in Africa.
"I had a troubled childhood," said Joe. "I often had nightmares. One night after awakening from a particularly scary one, I remembered my Sunday School teacher had said, when I was afraid to call out to Jesus. I started calling His name, 'Jesus, Jesus, Jesus.' Suddenly the room filled with light. I was transported through a sea of blue until I saw Jesus. The fear left me as soon as I saw his eyes. Jesus communicated to me that I was to be a missionary. I also understood that times would not be easy, but to rely on Him."
Waking up his mom, nine year old Joe said, "Jesus wants me to be a missionary."
Three months later he wrote a school paper on what he wanted to be. He wrote, "I will be a missionary, learn French in Europe, equip myself and travel to Africa."
Joe's family moved to San Jose, California when he was 13. While in high school he heard Loren and Darlene Cunningham speak in his church. He later applied to do a one-week YWAM domestic outreach.
After this first taste of missions Joe enrolled in Bethany Bible College, met Judi and fell in love. They married just before his junior year.
Judi went to work in the Development Office and then as personal assistant to the Dean of Students and the Chief Financial Officer at Bethany. Joe graduated with a degree in Pastoral Theology with a minor in Missions.
Joe's Bible College friend Al Akimoff went to the Caribbean with YWAM the summer of 1964. Joe loved the stories Al shared of the many miracles he experienced there. During their last year of college Al gave Joe a brochure about YWAM's first School of Evangelism [SOE] in Switzerland and the book, God's Smuggler, by Brother Andrew.
"A deep desire came to me," said Joe." If this is real and God works through people today, I want to experience it. I applied to the SOE and everything I desired in my heart or had hoped for was fulfilled."
For Judi this school was more challenging. She did not know French and often felt homesick. However, Joe says, "in five months Judi was speaking better French then I spoke after my five years of junior high and high school French."
"The Lord then called us to pioneer YWAM French Ministries out of Lausanne," says Joe. "We recruited kids and did summer outreaches in France."
They started a SOE to train French-speaking young people. The outreach fell in January. Europe was too cold for camping, so crossing the Sahara to French West Africa became the target. As Joe ordered four vans for the trip, he remembered the paper he had written 19 years before in the fourth grade.
When the French outreaches exploded with 180 participants, Joe says, "God spoke and said French Africa."
They released French Ministries Europe to Tom Bloomer. After the second SOE outreach in West Africa, Joe and Judi pioneered the first base in M'Pouto on the Ivory Coast. They moved into a house that had no running water or electricity. Their two children, Lisa and Joey were three and eight months old. Their third child Daniel was born later in Kona.
In 1976 on the way to Montreal for an Olympics outreach Joe got very sick with hepatitis and doctors thought he was dying. God intervened and Loren invited Joe to Kona to convalesce. The Lord gave them a new direction, with a focus on the Pacific and Asia. They are here again, after nine years in Switzerland, which included three years as base leader in Lausanne.
Joe and Judi want to see 1000 French-speaking people trained and in missions around the world. Joe added, "Wouldn't it be wonderful to see training programs offered in as many languages as possible through the University of the Nations."