---
Across Pacific Magazine | Humour | God at Work |
---



Flood Survivors Tell Their Stories




Gospel for Asia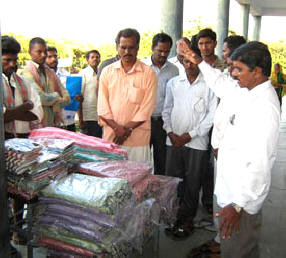 A GFA-supported missionary prays over provisions that will be distributed among flood survivors. GFA relief teams have been rallying to reach some of the worst-hit areas.

KARNATAKA AND ANDHRA PRADESH, INDIA (ANS) -- As last week's floods in Karnataka and Andhra Pradesh swept through the two Indian states, destroying homes, crops and livestock, many survivors lost virtually everything, finding it difficult to restore even the simple lives they once knew. But even as GFA-supported missionaries in these areas have suffered loss themselves, they remain committed to reaching out to these survivors, providing emergency relief supplies and ministering to them in Jesus' name.

"The loss is unexplainable"
"The loss is unexplainable," comments one of GFA's field correspondents who traveled to one particularly hard-hit area of Andhra Pradesh where GFA workers are reaching out. "People have lost their whole life, their memories, homes, loved ones."

Millions of people have been displaced from their homes. On hills and other areas of high ground, families can be seen huddled together in small huts they managed to construct for themselves. Many survivors do not have food or clean water.

Their joy knew no bounds when they received the relief aid, as many among them are left with nothing.

"The people are totally dependent on donors for food, water and clothes," comments the field correspondent. "They can't cook, buy or do anything. Villagers are looking on with wide-open eyes for some help to meet their needs."

GFA-supported relief teams have been reaching out among these people, ministering in six of the worst-affected areas and providing bed sheets, lungis (wraparound skirts worn by both men and women) and towels. Some of these people were half-naked and had spent sleepless nights with no protection from the cold.

"Their joy knew no bounds when they received the relief aid, as many among them are left with nothing," shares our correspondent.

Help Comes to a Widow
Priya's face beamed as she spoke of the care given her by GFA-supported relief workers.

Priya is 40 and has been a widow ever since her husband died tragically some years back. She's used to working very hard as a common laborer so her four children can have food to eat.

When our relief team visited this family, they bitterly cried and held on to our team members, sharing their problems with tears.

But then the floods hit her village in Karnataka. When the surging waters rushed into her tiny mud shack, the flimsy structure collapsed. The area surrounding what was once her home was inundated with water, so Priya and her four children had to flee for shelter to a roadside situated above water level. For days they stayed there without food to eat, and Priya had to watch her young children suffer, knowing she couldn't do anything to help them.

Some local politicians and government officials visited Priya's area promising to come back with emergency supplies, but the help never came.

Then Sunil Jayaraman, a Gospel for Asia-supported pastor ministering in the area, learned of Priya's sad plight. He visited her and brought her to the flood relief distribution being organized by GFA-supported relief workers. There she received rice, blankets and other supplies her family needed.

"She couldn't stand seeing her children's helpless faces," said a GFA field correspondent who heard Priya tell her story. "[The help] came as a great relief in her utter despair. Her beaming face told how obliged she was. Choking back tears, she said she would remain ever thankful for the help we gave her."

"They bitterly cried and held on to our team members"

Rajit and Ganika's home was also washed away in the flood waters that swept through northern and coastal Karnataka. They lost their cattle and all their belongings from their house.

"When our relief team met this couple, they shared their heartbreaking problems with our pastors," shares GFA's state correspondent.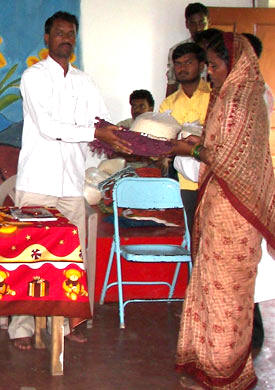 Priya receives flood relief items. As a widow with four children, she was incredibly grateful for the help GFA-supported relief workers gave her in her time of need.

The GFA relief team provided the couple with blankets, rice, corn and some pots and pans for cooking. The team also constructed a temporary shed made of plastic so the family could have shelter. In Rajit and Ganika's village, GFA-supported missionaries have been able to provide flood relief for at least 80 families.

Kewal and Swati live in another village in Karnataka. An electrical post fell on their house during the flood, destroying it completely. The couple and their children were inside their house when the incident happened, but they were not harmed.

"When our relief team visited this family, they bitterly cried and held on to our team members, sharing their problems with tears," our correspondent shares. "We helped them by giving them blankets, [cooking] vessels, rice and corn; and we also built a temporary plastic shelter."

Ninety other families in this village have also received welcomed help from GFA relief workers in their time of desperate need.

GFA leaders ask for your prayers for GFA relief teams as they continue to actively minister among flood survivors. They request prayer for abundant provision of resources to reach out to these people who have suffered so much and that many will personally experience Christ's redemptive love in their time of need.

---
Read a previous report about the recent flooding.
---
Gospel for Asia is an evangelical mission organization based in Carrollton, Texas, involved in sharing the love of Jesus across South Asia.