Legacy of Evangelist Billy Graham Continues as he Marks 91st Birthday,
Groundbreaking for Building Named in his Honor, Grandson to Preach in Georgia
By Michael Ireland
CHARLOTTE, NC (ANS) -- Evangelist Billy Graham will celebrate his 91st birthday on Saturday, Nov. 7, and is looking forward to visits over the weekend from several family members at his western North Carolina home to mark the occasion.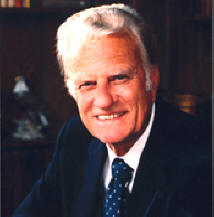 Billy Graham will be 91 on Saturday, Nov.7
"I've experienced God's gracious love in a personal way all these years," Mr. Graham said, pausing to reflect on life's blessings as he enters his tenth decade. "Today my heart is filled with gratitude to the Lord for all He has done for me, and for all the prayers from so many people over the years."
A media release from A. Larry Ross, Mr. Graham's longtime press secretary, says Dr. Graham remains in good overall health with a strong heart and clear mind, while dealing with various age-related conditions -- such as macular degeneration and hearing loss. He continues to exercise, including short walks at his mountain home every day, relying on a walker for balance.
Ross says: "The global evangelist continues to stay abreast of current events through nightly local and network television newscasts and cable programs. He still subscribes to several domestic and international newspapers and periodicals, from which his staff shares articles of interest. He also remains focused on the ongoing ministry of the Billy Graham Evangelistic Association (BGEA), which he founded nearly sixty
years ago, now under the leadership of his son, Franklin.
"Although my health now keeps me mostly at home, Franklin and our BGEA team continue proclaiming God's love and the Gospel of Jesus Christ to lost people in many places around the world," Mr. Graham said.
Ross says Mr. Graham continues to be involved with writing projects and spends time each morning and evening in Bible study and prayer with his family and friends or his staff. His pastor, Dr. Don Wilton of First Baptist Church, Spartanburg, S.C., also visits weekly for times of prayer and encouragement.
"But he still misses his lifetime marriage and ministry partner Ruth Bell Graham -- more every day -- since her death in June of 2007," Ross commented.
"While I know God keeps me here for a purpose, I look forward to the time when I will be reunited with Ruth in Heaven," Mr. Graham said.
"However, I am enjoying this season of life, watching my children and grandchildren - and now even my great-grandchildren - grow more fully into their own ministries. It is another blessing of these senior years."
Wish Billy Graham a Happy Birthday!
If you or someone in your family came to know Jesus Christ through his ministry, please share that with him. We want to continue to bless and encourage him. Send your greeting here: http://tinyurl.com/yh5asl2
Northwestern College to Build Billy Graham Community Life Commons: Prestigious Kresge Foundation Grant aids in the funding
Northwestern College in St. Paul, Minnesota, has broken ground on a signature structure, the Billy Graham Community Life Commons, in the heart of its suburban St. Paul campus.
According to the Northwestern College website, this cornerstone project -- offering new dining facilities, an expanded campus store, classrooms, study lounges, and student and meeting facilities -- will serve as a centerpiece of the college, providing students, faculty, staff, alumni and guests a vibrant community gathering space.
The site states that Northwestern met and exceeded its capital campaign goal in order to begin construction on the Billy Graham Community Life Commons, named in honor of college's second president. A total of $23 million was raised for the Envision Excellence campaign and of that total, $3.7 million was generated in the past 18 months -- despite a weak economic climate. As a result, Northwestern College has been awarded one of its largest grants in its 107-year history, $750,000 from the esteemed Kresge Foundation. Northwestern College was the only educational institution in Minnesota to receive a grant from the prestigious Kresge Foundation in 2007 and was selected by the foundation based on its commitment to educating underserved student populations -- non-traditional, first-generation and low-income students, and those from rural and urban settings.
"We see the new Billy Graham Community Life Commons building as a place where students can connect, build relationships, and be inspired both intellectually and spiritually," said Alan S. Cureton, Ph.D., president of Northwestern College.
"We are grateful to the Kresge Foundation and the thousands of faithful donors for giving us this opportunity, and in turn, allowing Northwestern to serve its students and the community."
During the fundraising period, many donors gave increased gifts, and more than 700 new donors were added during the last 18 months of the campaign.
Cureton stated, "We are encouraged by the generosity of our donors. It has been an extraordinary journey to witness this seemingly impossible miracle as Northwestern faculty, staff, students, alumni, parents, and the larger regional community as a whole came together to show their support and encouragement for this vital new campus center, the Billy Graham Community Life Commons."
A ceremonial ground-breaking celebration took place on Friday, Oct. 2 beginning in Northwestern's performing arts auditorium, Maranatha Hall, and ending outdoors on the building site.
Billy Graham's daughters -- Gigi Graham Tchividjian and Ruth Graham -- as well as state dignitaries and special guests were present to mark this notable occasion.
About the Billy Graham Community Life Commons
The Billy Graham Community Life Commons (CLC) building will serve as the signature community building on Northwestern's campus. Named for the world-renowned evangelist whose Billy Graham Evangelistic Association (BGEA) made its home in Minneapolis from 1950-2004, this structure will be the only building in the Twin Cities bearing Graham's name.
The 70,000-square foot facility will house two levels to serve as a "family room" for students, faculty, staff and guests. Specific functions include the campus dining center, student lounges and study areas, office and meeting space for student organizations, campus store, prayer room, and more. It's intended to create abundant designated space for people to connect, build relationships and stimulate spiritual and intellectual growth as the campus lives out its mission of providing Christ-centered higher education.
Radio Station Celebrates its Founding 60 years ago by Billy Graham
For 60 years, 98.5 KTIS radio has been encouraging and inspiring millions of listeners in the greater Twin Cities area to make a difference in this community, according to a dedicated web page set up for the anniversary, which draws upon these history excerpts pulled from the Spring 2009 Northwestern College 'Pilot' magazine.
The website says it all began on Monday, February 7, 1949, in Memorial Hall on Northwestern College's Loring Park campus when faculty, students, friends and family members packed the room and waited expectantly for a long-prayed-for moment.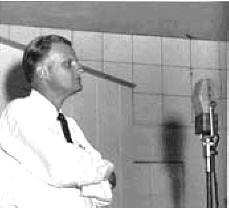 Billy at the microphone of the newly-launcehd KTIS radio station in 1949
At 2:15 p.m., the KTIS microphone was flipped to the
"on" position for the first time, and Northwestern President Billy Graham offered a prayer on-air.
At that time, Graham -- still in his twenties -- had agreed to become president of the college in 1947 when visiting the college's founder and president, Dr. William Bell Riley, in his home in Golden Valley, Minnesota.
Riley, known as one of the 20th Century's leading architects of fundamentalism, as well as the pastor of Minneapolis' First Baptist Church, declared from his death bed, "Billy, you are the man to succeed me.You will be disobeying God if you don't!.I'm leaving this school to you as Elijah gave his mantle to Elisha."
To Graham, Riley was a spiritual giant -- with the gravitas and statesman-like rhetoric to match. There in Riley's home, Graham, knowing he was not qualified and having turned down this request on a number of occasions, finally said yes to Riley's wishes, under the condition that he could maintain his commitment to evangelism.
Northwestern School's board of directors honored their founder's wishes at their first board meeting in l948, and named Graham interim president of the growing Northwestern Schools.
Vision for Radio
The idea to launch a Northwestern radio station had begun several years before Graham's involvement, but it was during Graham's presidency that the vision took to the air, literally.
According to a web-based article, at a Northwestern chapel service in early 1948, Graham issued a challenge to the student body to give a dollar week to start a Northwestern radio station.
"The challenge really worked," said Kyle Wilson (class of 1951), who remembers that particular chapel, "and the students gave over a thousand dollars a week." Students and staff raised $44,000 and put Northwestern's KTIS on the air through that weekly offering.
"This station stands," said Graham, "as a monument to answered prayer and the sacrificial giving of the greatest gang of students, faculty and staff in all the world."
Students not only helped provide the funding, they also helped in the construction and worked on the tower in Golden Valley, doing grounds and shovel work. In the first years of KTIS, many students were actively involved in providing the content on the air -- making it a training ground in media.
Brueske, a long-time member and curator of history at First Baptist Church in Minneapolis, remembers when KTIS first began broadcasting the church's sermons live from the pulpit. "Billy Graham told Curt Akenson (pastor of First Baptist Church), 'We're going to put a microphone in front of your face.' Curt said, 'well, I don't know anything about this.' Billy said 'oh, you don't need to. All you have to do is talk.'" That was Pastor Akenson's introduction to having the morning service on the air on KTIS.
Twin Cities Response
The Twin Cities' response to KTIS was overwhelming. So many letters from came in from listeners that the staff could hardly keep up with the correspondence, the web-based article says.
During that first year, programming from its studios included the first broadcast of the Billy Graham Evangelistic Association's (BGEA) weekly radio program "The Hour of Decision," that has continued for more than 50 years and currently reaches millions across the globe with the Gospel message.
While officially resigning the presidency in 1952 to focus on full-time evangelism, Graham's contributions to Northwestern are still felt today. Though his tenure at Northwestern was brief, his impact upon its legacy ripples to today's students and every listener who tunes in via the radio or Internet to hear one of Northwestern Media's 16 stations.
In 1977 at the Diamond Jubilee of the college, Graham, who participated in the celebration, said, "Seventy-five years to look back to -- glorious, thrilling, hard, challenging, sometimes desperate years. To God be the glory for what has happened. But today we don't look back. We look forward. . . . And I want to recommit my support to you and to Northwestern today. I count it a privilege to be a part of your history and I want to be a part of your future."
State-of-the-art Broadcasting Facility
The article says a lot has changed at KTIS in 60 years. The music sounds a little different, and the station is blessed with a state-of-the-art broadcasting facility. But the vision stays the same -- to be an encouragement to the community and truly help make a difference. KTIS management and hundreds of thousands of listeners alike believe Rev. Billy Graham's initial prayer has been answered a hundredfold.
KTIS radio currently reaches the Twin Cities as the number one station for Women 25-54 (Summer '08); number two morning show; with 350,000 listeners (cume); with a heavy emphasis on family (safe for all ages); and 100,000 watts of broadcast power.
According to the article, at 98.5 KTIS, the strategy is simple: To help make the Twin Cities a better place. "This is a lofty goal, but one in which the station can stay relevant, focused and purposeful. To that end, everything is designed to accomplish one of two things: make a real difference for a KTIS listener, and/or encourage listeners to make a difference for someone else."
Examples of Making a Difference
Today, unsuspecting commuters may be blessed in their daily drive-through lines by one of KTIS listeners paying for their order -- just a random act-of-kindness that listeners are encouraged to take part in every month called the "Drive-Thru Difference."
Volunteers find opportunities posted by the station's community partners on its web site launched in the fall 2008 -- www.ICanHelpTwinCities.com . To date, several thousand connections have been made. These include supplying 5,000 backpacks to inner-city kids and 1,200 warm blankets to homeless and needy; sending over 2,500 letters of encouragement to Minnesota military men and women serving overseas; creating over 20,000 Valentine's Day cards for sick kids in hospitals; and paying for thousands of orders for the stranger behind them in hundreds of Twin-Cities drive-through lines.
The website states: "The KTIS legacy is one of walking the 'talk.' If all the station did was just play the music and talk about how people of faith 'should' be, without getting out into the community, it wouldn't be true to the station's mission. It's all about making an impact on the Twin Cities -- one citizen at a time."
This fall of 2009, KTIS celebrates a legacy that started 60 years ago and continues today.
Northwestern gives thanks for new and old
Jeff Strickler, writing in the Minneapolis Star Tribune newspaper, writes that the anniversary week for the radio station, "is a big one for Northwestern College, with events being held from the Roseville campus to downtown St. Paul."
Strickler writes that on campus, the epicenter of activity was the ground-breaking for a building to be named after the school's most famous president.
He stated: "The Billy Graham Community Life Commons will be home to a new dining hall and campus store as well as meeting rooms. The building, to be finished in the spring of 2011, is expected to become 'the heart of the campus,' a place where students, faculty members and visitors can gather.
He explained: "Graham served as the college's president from 1948 to 1952. While there, he launched the Billy Graham Evangelistic Association, which is why its headquarters were in Minneapolis until 2004, when the operation was moved to North Carolina by Graham's son and successor, Franklin Graham.
"That wasn't the only thing Graham started while he was in Minnesota, which leads to the second part of (the) week's festivities. One of his first acts as president was to set in motion plans for a college radio station, which went on the air in 1949."
As part of the celebration of its 60th anniversary, KTIS (98.5 FM and 900 AM) hosted an anniversary concert at the Xcel Energy Center in St. Paul. The headliner was Christian singer/songwriter Michael W. Smith and "friends" -- 1,000 to be exact, forming a choir that was being assembled from 100 Twin Cities church choirs.
The Launching Pad
Strickler reminds readers that although Billy Graham was born and raised in North Carolina, it's the Minneapolis-St. Paul area that birthed much of his ministry. He was still in his twenties when he agreed to become president of Northwestern College in St. Paul.
He writes: "Billy, who felt he was not qualified, had turned down this request on a number of occasions. But in 1947 he finally agreed, under the condition he could maintain his commitment to evangelism. Northwestern School's board of directors honored their founder's wishes at their first board meeting in 1948, and named Billy interim president."
KTIS Hits the Air
On February 7, 1949, in Memorial Hall on the Northwestern College campus, a group of faculty, students, friends and family members packed the room and waited expectantly for a long-prayed-for moment.
At 2:15 p.m., the KTIS microphone was flipped to the "on" position for the first time, and Northwestern President Billy Graham offered a prayer on-air.
During that first year, programming from its studios included the first broadcast of the BGEA's weekly radio program "The Hour of Decision," which has continued for more than 50 years and currently reaches millions across the globe with the Gospel message.
In 1977 at the Diamond Jubilee of the college, Billy said, "Seventy-five years to look back to - glorious, thrilling, hard, challenging, sometimes desperate years. To God be the glory for what has happened. But today we don't look back. We look forward. . . . And I want to recommit my support to you and to Northwestern today. I count it a privilege to be a part of your history and I want to be a part of your future."
Living Out the Legacy
"Living Out the Legacy" is the 60th anniversary celebration of KTIS radio, designed to honor Billy Graham.
Both KTIS 98.5 FM and Faith 900 AM are committed to helping to make a difference in the Twin Cities. Listeners are encouraged to "give back" all year long. But in 2009, the station has been cheering them on to do something special -- with friends, family or church -- during the "60 Days of Service" which occurred from August 1 to October 1.
BGEA Headquarters
Of course, for those who work at the BGEA, the years that the ministry was based in Minneapolis (1950 to 2003) provide one of the strongest connections. Some staff moved to Charlotte when the ministry did, but others chose to remain.
Twin Cities-Wide Volunteer Initiative Kicks Off
A City of Saint Paul Proclamation Declared August and September as "Living Out the Legacy: 60 Days of Service" in Recognition of the KTIS anniversary
In celebration of its 60-year anniversary and founder, Rev. Billy Graham, KTIS radio announced three special events under the theme of "Living Out the Legacy."
A Twin Cities-wide community service initiative, called "60 Days of Service," was recognized by a City of Saint Paul Proclamation made for the months of August and September.
The proclamation states: "Whereas, In celebration of its 60th Anniversary, KTIS will encourage more than 400,000 listeners and the faith community across the Twin Cities in "Living Out the Legacy" by coming together to organize their companies, churches, and youth teams to volunteer to make a difference in our community."
Large and small groups of people were being encouraged by KTIS to volunteer during its "60 Days of Service" initiative, from August 5 to October 3, especially in key areas of emphasis as identified by both
cities' mayoral offices: hunger, schools, homelessness/ displacement, and environment/ beautification.
As part of its "Living Out the Legacy" anniversary, KTIS has created a web site (www.icanhelptwincities.com) that served as the central hub linking volunteer opportunities to those identified by Twin Cities service organizations.
"As part of our mission to make the Twin Cities a better place to live, especially for families, the station encourages listeners in various random acts of kindness," according to Paul Virts, senior vice president
for media at Northwestern College and general manager of KTIS radio.
During the "60 Days of Service," the station offered listeners the opportunity to volunteer alongside KTIS personalities.
"We see giving practical and tangible 'legs' to volunteer opportunities as living out Rev. Graham's legacy every day," says Virts. "If all we did is play music and talk about how people of faith should live, without getting out into the community, it wouldn't be true to the station's mission."
The "60 Days of Service" culminated in a Concert Celebration on Saturday, October 3 with Christian recording artists Michael W. Smith and Matthew West at St. Paul's Xcel Energy Center. The celebration included a 1,000-voice choir of Twin Cities singers who will be led by Dan Leverence of Constance Evangelical Free Church in Andover, Minnesota.
As a part of that celebration, KTIS put together a 1,000 voice choir made up of members of over 150 churches, Teen Challenge, Union Gospel Mission and local colleges. The choir will be joined by artists Michael W. Smith, Matthew West and Phil Stacey.
A special song called 'For The Time That's Still to Come' was written specifically for this event.
"Living Out the Legacy" celebrated the legacy of KTIS radio in the Greater Twin Cities area and, specifically, Billy Graham's founding of KTIS radio in 1949. The station has touched millions of people's lives for Christ and, in turn, listeners have looked to KTIS for ways to live out their faith -- creating their own legacies -- through volunteer opportunities and intentional acts of kindness.
Northwestern's media network includes 16 radio stations in eight markets in the Upper Midwest. It also operates a satellite radio network, distributing programming to its six stations in the region. Radio stations KTIS 98.5 FM and KTIS AM 900 are owned by Northwestern College in St. Paul, Minnesota.
1949 Annual Report by Billy Graham
An article published in the July 1949 Pilot, containing excerpts from The Annual Report by Billy Graham in 1949, relates Graham's message to the Board of Directors, showing the young evangelist's heart for evangelism and reaching the world with the Gospel.
At that time, Dr. Graham said: "We sincerely believe that we are gathered today to discuss the policies, plans and program of one of the most important phases of the Lord's work in His vineyard at this particular time.
"Let us remember that we are 'laborers together with God -- so then neither is he that planteth anything, neither he that watereth, but God that giveth the increase.' We also remember the word, 'Therefore, my beloved brethren, be ye steadfast, unmovable, always abounding in the work of the Lord, for as much as ye know that your labor is not in vain in the Lord.'
"In view of all this, ladies and gentlemen, does it behoove us to stand together shoulder to shoulder as never before? Those of us who look for His coming, believe in His virgin birth, His deity and atoning death, hold to the inspiration of the Word, and labor for the evangelization of the world --should not these great fundamentals be sufficient to bind us heart to heart? Suppose we do differ in many minor points -- are these less important things sufficient to divide us? Shall we ever agree on everything? Cannot brotherly love and the heartiest cooperation prevail?
"And may we not work hand in hand even knowing that we differ on our Lord's prayer to be answered, "That they all may be one"? Is there not such a thing as being right in heart and wrong in head, and is not the former preferable? Why should the word opposition ever be heard among us? Are we not laborers together and cannot unity and harmony prevail? Our Lord bade us use the sickle on the whitened harvest fields but never on our brethren. Dare we then touch His anointed? Must we make it our business to undermine God's servants because of some side issue upon which we cannot see eye to eye? Should there not be the fullest fellowship and heartiest cooperation? How else can we meet the fearful apostasy and destructive criticism and darkness of our day? In unity there is strength.
"Gentlemen, I beg of you as we consider these matters today that we not go 'without the camp' divided, but that we go 'without the camp' united. I trust that our decisions will be harmonious, unanimous, and that our suggestions and discussions will be in a spirit of love, realizing the tremendous responsibilities that we have.
"In these last days God has raised up Bible institutes and Christian training schools. Founded forty-seven years ago, the Northwestern Schools has become one of the largest of these institutions in the world. It occupies a prominent place in strong, uncompromising, evangelical Christian education.
"As we come to this annual Board meeting, we have much to thank God for. This last year has been a hard, nerve-wracking and trying one for all of those who are in places of responsibility at the Northwestern Schools. All of us have been extremely overworked. As a result, many mistakes have been made, and we confess our mistakes and errors and shortcomings. We say in all humility that had it not been for God, Northwestern could have folded up at any time. We give God all the praise and glory for anything that has been accomplished during the past twelve months. In these past twelve months we have seen evidences of the Hand of God.
"First, in this past year we have seen the glorious completion of Memorial Hall. A year ago there were many that said it would never be done. Today it is a monument to answered prayer.
"Secondly, this past year we have seen the enrollment of the Northwestern Schools increase by twenty-five percent. The average Christian school shows a decrease of eight percent during the past year. Certainly, the Lord has been more than generous to us in giving us so many students, from so many different lands.
"Thirdly, we have seen our budget nearly doubled in the past year, and yet we have seen God meet our financial need at every turn. He has tested us many times; we have come through many deep waters, but we are still here.
"Fourthly, this past year we have seen twice as many different gifts come to the Northwestern Schools for our work as in any previous year in the history of the school. There were many that said that because of the passing of so great a man as Dr. Riley, or the interim on the president's name, or many other excuses, that we would not receive as many gifts as we had previously. The very opposite has been true. God has been with us!
"Fifthly, we have seen the wonderful completion of KTIS. One year ago many said it could not be done; even some of our close brethren and advisers in this city said it was impossible, and I tell you very frankly that there were very few that lent to us a helping hand. I asked several for help and for one reason and another we were turned down. God alone built this station. This is one project that we owe no man anything. God through the sacrificial gifts of the students, faculty and staff, and the untiring efforts of the director of our station, raised this up to make a tremendous impact upon the Minneapolis area. All of you know this miraculous story.
"All across the nation people are talking about the Northwestern Schools. Dr. Sam Sutherland, Dean of The Bible Institute of Los Angeles [Biola University today], said to a group a few days ago in Los Angeles, 'There is no doubt about it, the Northwestern Schools now has the spotlight of Christian schools across the country.' There are many that have asked what is the answer, how has all this come about in so short a time? The only answer is God! The present leadership of this school has stood back and watched God work. Please believe me, I feel that I have contributed so very little and I feel very small and inadequate; and even as I write this, tears come to my eyes as we look back across the year and see the glorious accomplishments and achievements that only the Lord Himself could bring about. We have much to praise and thank Him for. Praise be unto His Name.
"...I should like once again to confess my own personal mistakes during the past year. They have been many. Some have been because of lack of experience. Some have been because I was not adequately informed of certain situations. Some have been because I was not here enough to know what was actually going on. Others have been mistakes of misjudgment. For all of these I am deeply regretful, and I am certain I will be held accountable at the Judgment Seat of Christ. These Deans with wiser heads have been patient, understanding, and wonderfully cooperative. Only the Lord in heaven knows what this has meant to me. Every one of them is exactly what Dr. Riley said they were -- genuine and true blue and deeply spiritual. Not one of them is out for himself. I can say without reservation that every one of these men and women is out to glorify the name of the Lord Jesus Christ in this place. Again I say that I, and you, owe them a deep debt of gratitude.
"During this past year we have taken to heart this new motto of ours, 'Knowledge on Fire.' We have been trying to teach our young people that one of the greatest lessons they can ever learn is how to live. We teach science; we teach literature; we teach all the academic subjects, but we also teach students how to live. We do not let young people skim over the job here and get away with it. We want them to study hard and do a good job, not for just what they are going to learn in books, but we believe that in so doing we are building their characters. But with all the knowledge through academic subjects that we are cramming into their heads, and the character that we are putting into their backbones, we are asking God and the Holy Spirit to set it on fire. We believe the greatest need in the Christian work is the hour of evangelism. We do not believe the world will ever be evangelized until the church gets on fire for Christ. Therefore, we have this year emphasized a burning passion for the souls of men. We have had one chapel sp eaker after another to testify that there is something electric, something different here on Northwestern's campus. If you could have been here during the Missionary Conference, you would have seen this flame as it seared its way into hundreds of lives and scores made decisions to go to the foreign fields with the glorious gospel of Christ. We believe that our student body is on fire.
"And another thing we are trying to teach young people is that they must obey the rules. We are not insisting on obedience to our rules in order to just get them obeyed, but we believe that in doing so we are producing Christian leaders and characters who will be able to stand up under the chaotic conditions and be worthwhile in our modern world. The world needs Christian leadership. The fundamental thing in training for leadership is to learn obedience. We believe that if young people can't take it on the chin, if they can't obey the rules here, they will never be a leader. The whole modern world is wrecked because of disobedience. The sinful philosophy that has destroyed America is built upon the philosophy of disobedience.
"Another thing we have insisted on is loyalty. I believe that one of the greatest lessons that needs to be learned in Christian circles today is loyalty: loyalty to the institution, loyalty to the cause, loyalty to the God-anointed leadership. We have put in some stiff rules on loyalty, and we mean them to be kept. Disloyalty will not be tolerated in this institution on the part of faculty, staff or students. We will not be a divided school. We move here in a mass. That does not mean that we agree about every policy or method or program. It does not mean that we are a bunch of nonentities. But we are all rallying around a truth, a purpose and a program. United we stand; divided we fall. That is the reason we have put in our new rules that no destructive criticism is tolerated.
"I believe I can say without contradiction that the students, faculty and staff are united as never before. I do not believe there is a happier student-faculty relationship anywhere in the world. It is marvelous in our eyes. We are deeply grateful for all the things that He has done for us during the past year."
Community Life Commons to bear Billy Graham's name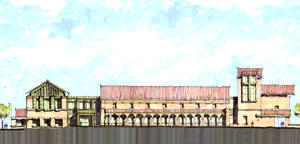 The new Community Life Commons at Northwestern College that will bear Bily's name
More than 30 years after Billy Graham's departure from Northwestern, he returned as the keynote speaker for the college's 75th anniversary celebration.
Thirty-two years ago, at Northwestern's 75th anniversary celebration on October 2, 1977, the keynote speaker closed with his personal vision for Northwestern: "We look forward to generations of students that are yet to come, should Christ tarry. And I want to recommit my support to you and to Northwestern today. I count it a privilege to be a part of your history and I want to be a part of your future."
The speaker was Billy Graham, Northwestern's second president (1948-52). Now, nearly 32 years later, Billy Graham has been chosen as the namesake for the Community Life Commons.
In December 2008, Graham sent a letter to Northwestern College President Alan Cureton approving the selection of his name for the new building. The letter came as a timely Christmas present for the Northwestern community, which sees great significance in having a building devoted to student community and spiritual life bear Graham's name.
"As we look around campus, we see buildings named for several past presidents of Northwestern: Riley, Berntsen, Ericksen," said Cureton.
"It is only fitting we name the Community Life Commons for Billy Graham, our second president and a man who embodies the spirit of evangelism and biblical leadership we hope to instill in every student at Northwestern."
The Billy Graham Community Life Commons ensures that Graham will indeed be part of Northwestern's history and future -- not only in name and legacy, but also on campus -- and in the same location where he spoke his heartfelt words more than 30 years ago.
Lessons Learned in Leadership: How Billy Graham's Northwestern role influenced his ministry
Though Billy Graham spent only four years as president of Northwestern, his time at the school would influence his ministry throughout his life, writes Doug Trouten, chair of the the communication department at Northwestern College, who has taught journalism at the college since 1999 and was the editor of the Minnesota Christian Chronicle for more than 20 years.
Trouten states that Graham writes in his autobiography, 'Just As I Am': "I can see that many good things came of my time there, especially in the experience I gained in management and finances and in working with a board," Graham wrote "The years there also gave me a greater understanding of young people. All of this would be valuable to me in future years."
At the time of his appointment, Graham was the youngest college president ever. "In his role as college president, he became aware of both his strengths and weaknesses," said Graham spokesman A. Larry Ross. "I think he was overwhelmed."
Surrounding himself with trusted leaders
Graham held the title of president of Northwestern, while pursuing God's calling to a life of evangelism. That taught him an important lesson in leadership.
"His time at Northwestern developed a pattern of leadership he would follow throughout his career," said Ross. ""The pattern was that he chose the right leaders and equipped them to do the work. He chose good people for big positions and then got out of the way. I think that's something that was honed at Northwestern."
Graham also found colleagues at the college. Many of the early leaders of the Billy Graham Evangelistic Association were people Graham had worked with at Northwestern, including George Wilson '36 (college business manager), Luverne Gustavson '39 (Graham's secretary), Betty Lowry (described by Graham as "an administrative whiz") and Jerry Beavan (college registrar).
Ross added, "Through Northwestern he formed relationships with men who would remain at his side through his life." When Wilson died in 1999, Graham said, "George Wilson has been one of my closest advisors for well over 40 years. I owe him a debt of gratitude I can never repay. Human terms cannot measure the remarkable contribution George has made to my ministry."
Wilson helped keep the Billy Graham Evangelistic Association on the cutting edge of technology in using computers to build and maintain mailing lists and a donor base, and even won awards from the United States Postal Service for his work. Upon Wilson's death, Prison Fellowship's Chuck Colson said Wilson was "probably helping the Lord reorganize His computer files and reduce production costs in Heaven."
Minneapolis headquarters
Wilson's devotion to the Twin Cities and Graham's reliance on Wilson kept the headquarters in Minneapolis, even though Graham lived in North Carolina. The Northwestern College connection is the reason that for four decades, "Minneapolis, Minnesota" was "all the address you need" to write to Graham.
"George had been an established businessman, and all of his supplies and contacts were in the Twin Cities," recalled Ross. "He was established there and felt there was no sense reinventing the wheel."
Ross noted that the Midwest location served Graham well. "I'd go into the office in Minneapolis for meetings and somebody would be having their 35-year anniversary luncheon," he recalls. "There's a strength of character and commitment in the workforce pool there that I think was a benefit."
Casting a wider net for evangelism
Throughout his ministry, Graham was known for reaching beyond his strict fundamentalist roots to involve the broader Christian community in his ministry. Some of these efforts were questioned and even challenged by leaders at Northwestern. In his autobiography Graham recalled, "While some of the men on the board did not like it, I saw great new possibilities for evangelism in this development."
During this time and in the early days of his evangelistic ministry Graham developed some deep convictions about the subject of separation. In a November 1958 article in Eternity magazine Graham wrote, "It seems to me that the entire weight of Scripture lies in the direction of fellowship rather than separation. John 13:34 and 35, 'A new commandment I give unto you, That ye love one another.... By this shall all men know that ye are my disciples, if ye have love one to another.'"
Ross notes, "He got a renewed vision for a unified Christian community and would often work with over 100 churches to set up a crusade. His goal was not ecumenism-to come together just to be together-but to find the common denominators on which everyone could agree. In many cases it was a burden for their community and for evangelism."
Ross said the tension between some board members at the college and broadly based evangelistic crusades helped Graham learn a balancing act that would serve him throughout his career. "Maintaining his conviction without compromise-while realizing there's an opportunity to work together-was galvanized there," said Ross.
The importance of media
KTIS radio was also part of the fabric of the school. Although plans for the station had begun a decade earlier, the station "signed on" in 1949 during Graham's presidency. Graham was instrumental in raising funds to start KTIS, and his was the voice listeners heard during the dedication prayer.
"As he got his own ministry, he knew the importance of media ministry," said Ross. "He started stations, and starting KTIS strengthened his commitment to radio and to media ministry." Later, Wilson was influential in Graham's ministry by expanding the organization into television, radio and satellite broadcasts.
Equipping for another call
"He obviously didn't have the credentials or degrees for [the presidency]," continued Ross, "but it prepared him for the many challenges that would come as God put him in situations where he had to totally depend on the Lord's strength- whether it was preaching while sick, or going into communities and countries where against great odds he would do the seemingly impossible, trusting the Lord for the outcome."
From learning management skills to finding managers, and from locating his ministry doctrinally to locating its headquarters physically, Billy Graham's life and ministry were shaped by his years at Northwestern-four years full of lessons and people that helped to equip him for a lifetime of evangelism.

Will Graham, Grandson of Evangelist Billy Graham, to Host Celebration in Auburn, Georgia, Continuing Graham Family Legacy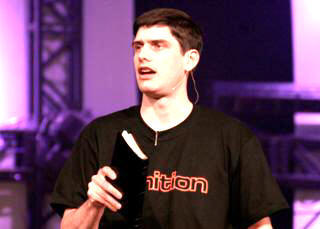 Billy Graham's grandson Will preaching at one of his celebration events.
Will Graham is the third generation of Grahams to proclaim the Gospel of Jesus Christ under the banner of the Billy Graham Evangelistic Association (BGEA).
Will is the grandson of Billy Graham and the oldest son of Franklin Graham. Since beginning his evangelistic ministry with youth-oriented, one-day events in Canada, Will has spoken to audiences across North America, Australia, India and other parts of Asia and South America.
Graham graduated from Liberty University in 1997 with a Bachelor of Science degree in Religion and in 2001 graduated from Southeastern Baptist Theological Seminary with a Master of Divinity degree. He currently serves as assistant director of the Billy Graham Training Center at The Cove in Asheville, N.C.
Will Graham, along with local church and civic leaders, continuing the lgeacy of the Graham family name, will hold the East Alabama West Georgia Will Graham Celebration at Beard-Eaves-Memorial Coliseum, March 26-28, 2010.
"I appreciate the invitation from the churches to come to the Auburn/Opelika area and preach the Gospel of Jesus Christ," said Will Graham, speaking in a media release.
"We'll have great music and challenging messages, and I look forward with anticipation to see how God will bless this community through the Celebration."
The East Alabama West Georgia Will Graham Celebration is a not-for-profit corporation, operating under the direction of a Celebration General Committee led by Chairman Banks Herndon, a member of Trinity United Methodist Church in Opelika, Alabama. Area volunteers representing churches and denominations across the region will participate in the preparation process, working toward a successful Celebration.
"I pray every morning that this event will bring many to know that Jesus is real, and not some storybook figure," said Mr. Herndon, "and to know that He deeply wants each one of us to live forever in a great place He calls Heaven."
The Rev. Clifford Jones, senior pastor of Greater Peace Missionary Baptist Church in Opelika, Ala., added, "I have a great burden for lost souls. I know this area will be stronger spiritually and many lives will be changed for good, and that excites me."
All Celebration programs will be open to the public and free of charge. Billy Graham Evangelistic Association Celebration Director John Cass and a group of trained and experienced staff will help guide preparations. Additional staff will be hired locally.
From its headquarters in Charlotte, N.C., the Billy Graham Evangelistic Association directs a wide range of domestic and international ministries, including: large-scale festivals led by evangelists Franklin Graham and Will Graham; Dare to Be a Daniel, a youth evangelism training project; My Hope World Evangelism Through Television; the Billy Graham Rapid Response Team of crisis-trained chaplains; and many others through
print, television, telephone, radio and the Internet.
_______________________________________________
For more information, please visit www.billygraham.org . Get BGEA news updates on Twitter @ www.Twitter.com/BGEAMediaPR .
For more information on Billy Graham and the ministry of the BGEA, contact:
A. Larry Ross (972) 267-1111
Melany Ethridge (214) 912-8934

---
** Michael Ireland, Chief Correspondent of ANS, is an international British freelance journalist who was formerly a reporter with a London (United Kingdom) newspaper and has been a frequent contributor to UCB Europe, a British Christian radio station. Michael has traveled to Albania,Yugoslavia, Holland, Germany, Czechoslovakia, Israel, and Canada. He has reported for ANS from Jordan, China, Russia, Jamaica, Mexico, and Nicaragua. Michael's volunteer involvement with ASSIST News Service is a sponsored ministry department -- Michael Ireland Media Missionary (MIMM) -- of A.C.T. International of P.O.Box 1649, Brentwood, TN 37024-1649,at: Artists in Christian Testimony (A.C.T.) International where you can donate online to support his stated mission of 'Truth Through Christian Journalism.'