XVII International

AIDS

Conference in Mexico City

A place where 'Monty Python' meets the world's greatest pandemic

By Dan Wooding
MEXICO CITY, MEXICO (ANS) -- I have just spent a few days reporting on the XVII International AIDS Conference in Mexico City and can confirm that it is where "Monty Python" meets some very serious medical people and Christian leaders.
It is a kind of never-ending street theater of protesters all trying to be more outrageous and louder than the previous group.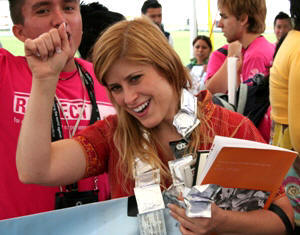 A protester wearing a condom neck less (Photo: Dan Wooding)
For instance, I've just seen a group of "sex workers" chanting for more rights, with some of them women wearing necklaces made of condoms.
On Monday (August 4) a group of activists interrupted former president Bill Clinton's speech as he was saying, "AIDS is a very big dragon. The mythological dragon was slain by Saint George, the original knight in shining armor, but this dragon must be slain by millions and millions of foot soldiers."
The former president remained unfazed as a silent crowd of demonstrators holding banners calling for housing for people with HIV walked in front of the podium.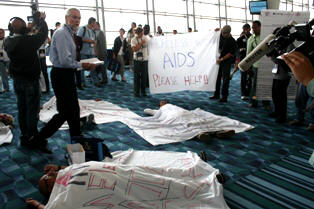 Homeless AIDS activists make their point after interrupting Bill Clinton's speech (Photo: Dan Wooding)
The protesters then left the main hall and lay down at the exit and covered themselves with pretend shrouds as if they had died because of being homeless with
AIDS
.
Then four topless women with their tops painted in white, arrived at the media group to pose for pictures for a cause that I still can't work out.
There were several transvestites wandering the halls, including those from India proudly wearing their saris.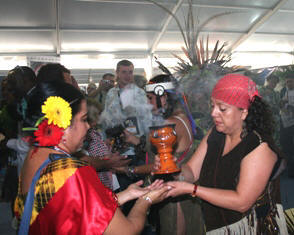 An Indian healer at work at the AIDS Conference (Photo: Dan Wooding)
You could hardly walk a few feet in the Global Village without being handed free condoms and today I witnessed a group of Mexican Indian healers with their smoke and feathers doing their voodoo stuff for the hundreds of attendees lined up to get "healed".
This is my fourth International AIDS Conference now and you may ask, What is a Christian journalist doing at such a strange event? The answer is easy. I am reporting on the many Christian's individuals and groups who are here to bring the love of Christ to such a weird and wonderful conference.
For instance, I traveled down from Southern California, with four members of He Intends Victory (www.heintendsvictory.com), a wonderful ministry based in Irvine, California, that helps those infected and affected by HIV/AIDS. The leader is Bruce Sonnenberg and also here are Dr. Jeff Hendrix, a physician, Joan Yorba-Gray and Dan Davis, the latter two are both HIV-positive and have been spending much of their time talking about the Lord with others in the huge HIV Positive Lounge here.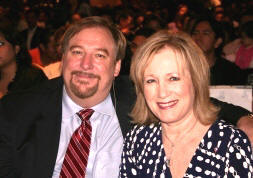 Rick and Kay Warren in Mexico City (Photo: Dan Wooding)
Rick and Kay Warren from Saddleback Church in Lake Forest, California, are also here and have been deeply involved with the conference and even put on a special event yesterday to address the issue of global partnership ventures to help people living with HIV/AIDS.
"We are at this conference because we think this is where the Church ought to be," Rick Warren said. "What we have before us is a global pandemic, and the Church needs to show compassion, kindness and the love of Christ as part of the solution."
In case you are still not satisfied why Christians would be here in such a carnival like atmosphere, I'll leave the last word with Peter Grant, the international director of Tear Fund, a UK-based relief and development agency.
I asked Grant, "What is a respectable Christian ministry doing in the middle of all this?"
He responded: "I think this is just exactly where we should be -- it's great to be in an environment where there are so many different views around. But to be able to stand here with a Christian perspective putting forward what the local church is doing, pointing out that so much of the healthcare and support to people living with HIV, through Africa particularly, is being provided by churches and Christians."
I told him that when I first started coming to these conferences you could count the number of Christian ministries on one hand. "The church in some ways has been very slow coming into the table, very judgmental, I said. "What has been the turn around of this?" I asked him.
"I think it's a realization of the heart of Christ for marginalized people around the world and people living with HIV are often amongst the most marginalized. Tear Fund started to take forward some innovative work with partners. We've worked with Trans-gender communities in India, we've worked with victims of sexual violence in The Congo, and we're highlighting some of this work here. But I think more than that, this is a chance for the Church to be changed in terms of our judgmental attitudes and in terms of the stigma that we address towards people with living with HIV and show that we actually do genuinely love everyone as the Lord calls us to do," said Grant.
I then asked Grant: "What would you say to the cynic saying 'well it's as I've heard -- some people say it's the gay plague -- it's their own fault.' What would you say to that, particularly in view of what's happening in Africa?"
He responded: "I'd say that each of us, when we stand before God, are people who need his forgiveness and grace and we're not here asking how people contracted HIV but seeking to love them and look after them and support them where they are, and as I say I think the Church needs to change to reflect more the mind of Christ and that God is using HIV to help us to do that."
I don't think I could have said it better. I hope to see more of you at The 2010 International AIDS Conference in Vienna, Austria from July 18-23, 2010, at the Reed Messe Wien.
---
Dan Wooding, 67, is an award winning British journalist now living in Southern California with his wife Norma of 44 years. He is the founder and international director of ASSIST (Aid to Special Saints in Strategic Times) and the ASSIST News Service (ANS). He was, for ten years, a commentator, on the UPI Radio Network in Washington, DC. Wooding is the author of some 42 books, the latest of which is his autobiography, "From Tabloid to Truth", which is published by Theatron Books. To order a copy, go to www.fromtabloidtotruth.com. danjuma1@aol.com.