Kahu Tom Kalili:
One Person's Reflections

by Earl Nakasato, Attorney-at-Law
Consistory Member, Berean Bible Church
When I first started to regularly attend the worship services at the Berean Bible Church, Thomas Kirkwood Kalili was the Kahu or Pastor. He was more than that; he was the Pastor-Teacher. He was affectionately known as Kahu Tom or simply Kahu.
The first five books of the Bible contain a common thread of instruction by Moses: "Remember the God of our Fathers." "Remember Jehovah and how He protected us." Remember, remember. Some of us tend to easily forget our spiritual foundations. Kahu Tom made it obvious as to where his spiritual foundations came from, and he wanted all of us to know that. To him, the Bible alone was supreme and the final and only authority on matters of faith and practice. In fact, he taught in practical terms what real faith is and that "faith cometh by hearing, and hearing by the word of God." Romans 10:17.
I recall a gathering I attended with Kahu Tom sponsored by the Christian Business Men's Club. This meeting was attended by people from many different churches -- Baptist, Presbyterians, Pentecostals, to name a few. During a discussion on the "way of Salvation" that seemed to be going in all kinds of directions, Kahu Tom boldly and confidently explained the John 3 and 4 passages, tying them in with Genesis 1:1, 3:15 and Romans 5. Not meaning to exhibit his Bible knowledge, his point was that all the correct information we needed on this topic must come directly from the Bible, so let's look at it.
Before I met Kahu Tom, I must admit I was perhaps 25% skeptical of the Bible, believing that substantial parts of it were true and some parts not true. Having a rationalist view of Scripture, I felt that in many aspects, the human mind was supreme. This all changed after I met Kahu and attended his worship services and Bible studies. He was never wishy-washy about the Bible. Kahu's preaching of God's Word really grabbed hold of me and deeply touched the core of my being. I had never heard anyone in my life make the Scriptures come alive with the Holy Spirit illuminating the depths of them in a meaningful way.
The book of Romans was being taught when I started attending Bible studies. What I learned literally drove me to search for more knowledge about the God of the Bible. Having grown up as a Buddhist in name only, and concentrating on secular goals with no sound spiritual paradigm to follow, and being tossed to and fro by every wind of doctrine that came along, I had my mind, soul and spirit opened to totally refreshing perspectives. I learned the truth about my nature and condition from God's Word and that the God of the Bible provided a remedy in the person of Jesus Christ. I truly owe my born-again life to Kahu Tom in his work as Pastor-Teacher of the BBC.
I'm far from an intellect or a genius, but I've had enough education and read enough books to make comparisons and discernments. Being as honest and objective as I can, I will say this: no scholar or teacher has made more of a life-changing and profound impact on my life than Kahu Tom.
He had a deep biblical love, a 1 Corinthians 13 kind of love, for each and everyone who attended the church fellowship. He expressed this on occasions with a little sign and nod of his head by saying, "I just loved those people," when talking about the previous church he shepherded and the people of BBC.
When Kahu Tom conducted funeral services, weddings, governmental functions, he never "cut corners," as he expressed it. The Word of God was always central as he made known the truths of Scripture. Blessing ceremonies were never conducted with "koa bowls and ti leaves." He made sure he showed up with his Bible and talked about the God of the Bible. Because of this biblical stand, his invitations to the above became less and less frequent.
One central theme of his teaching was that BBC was a part of the universal Church of believers, fellow saints having put their faith and trust in the Lord Jesus Christ. He was never ashamed of the Gospel of Christ.
The Businessmen and the Ex-Stevedore. Of the many people the Lord led to worship at BBC, I would like to point out three individuals on whose lives Kahu Tom made an impact. The names of the first two are fictional to protect their identities.
Kahu Tom exercised some real patience in debating with Reynold, a former building contractor and businessman, who is now at home with the Lord. These discussions extended late into the night after Bible study classes. With several failed marriages and business bankruptcy, Reynold realized that no amount of money or friends in high positions could bring meaning and purpose into his life. Through the BBC, and Kahu Tom's preaching, he became a born-again believer and was on-fire for the Lord, causing many of his friends from his former days to avoid him like a plague.
STB, an insurance salesman and businessman was convinced by Kahu's teaching that he should "seek first the Kingdom of God and His righteousness, and all these things will be added to you." Matthew 6:33. When the truth of this scripture gripped his heart, the initial response was, "Wow!" Because of Kahu's straightforward teaching of the Word, STB and his wife commented on the honesty portrayed in these presentations.
Frederick Sipe, the ex-stevedore -- who went home to be with the Lord in 2004 at age 80 -- was a "street-smart kid" brought up in Baltimore, Maryland. He was a union "enforcer" with a tough approach to life but was also a well-read person.
Fred was invited to visit BBC by Jacque Rapoza, who operated a flower shop in his apartment building. He was impressed with the joy radiated by the people in the fellowship. He was curious about this and wanted it for himself. According to Fred, Kahu's teaching about the transforming power of the gospel started opening up for him and he "couldn't move fast enough to make the decision to accept the Lord and be born again."
Fred often commented regarding the humility of Kahu Tom when great speakers came to BBC, such as Drs. J. Vernon McGee and Arnold Fruchtembaum. "He took a back seat to these men of God, wanting to expose the church families to additional sound Bible teaching," was his comment.
The 50th Pearl Harbor Commemoration. In 1991, Kahu Tom was invited to Honolulu to give the Christian prayer at the 50th anniversary of the Japanese attack on Pearl Harbor with the President of the United States in attendance. Kahu was to give the invocation along with persons from the Catholic, Jewish, Islam and Buddhist faiths.
The wording for the prayer was sent to the general of the Office of the Chaplain of the U.S. Military. A quick response came requesting that he delete any reference in the prayer to the Lord Jesus Christ because it will make certain people uncomfortable. Kahu, in his clear and humble manner, prayerfully explained to the general that he and his family in Hawaii were blessed by the gospel message shared by G.I.s during and following World War II. He told the general that Hawaii and the Hawaiians were not destroyed but "saved," and like many families in America, he and his family had received the blessings of a merciful and gracious God, the Father of Jesus Christ. Consequently, he could never, ever turn his back on this God. He recalled Daniel of the Old Testament and how he set his mind to always worship the true God of the universe, not any other God, and Joshua who declared whom he would follow: "Choose for yourselves today whom you will serve... but as for me and my house, we will serve the LORD."
With God's seemingly unseen powers, Kahu Tom prevailed and was allowed to give his invocation. But Kahu Tom felt that even if he were not allowed to give that invocation, and thus excuse himself from participating, he would have continued to give his allegiance to the God who sent His only begotten Son, Jesus Christ.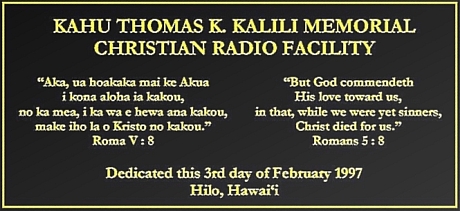 The News and Aftermath. Even when he was very close to going home to be with the Lord, Kahu Tom exhibited tremendous faith in the Lord. On the morning of August 13, 1992, Tommy Crabb, the Chairman of the BBC Consistory, called to inform me that Kahu Tom wanted to meet with this group We were all questioning the purpose of the meeting. Was a new place found for the church to meet? Will there be a new church program? After an opening prayer was offered, Kahu shared this message: "Recently, during a doctor's examination, a cancerous growth was discovered in my right side."
This was said soberly, calmly, matter-of-factly, without shedding a tear. Needless to say, we were all stunned. Someone asked, "How, how serious is it?" In full control of his voice, Kahu replied, "The doctor gave me about three months."
We all went through typical male responses... indeed "crying inside," but trying not to reveal this shock outwardly.
Kahu, with God's help and in His plan, defied the doctor's prediction. He went home to be with the Lord on June 30, 1996. During those last four years of his life, there was no complaining or displaying anger to God or anyone because of his health condition. Words of thanksgiving and praise to God were offered for all things large and small, even his medical prognosis.
We often gathered at his home to read and discuss God's Word. he was preparing us to diligently study the scriptures to be able to present ourselves approved unto God and to accurately handle the Word of Truth, 1 Timothy 2:15.
Through the proverbial peaks and valleys, the good times and the difficult times, we have come a long way in the past 25 years, and the Lord has kept us together. In spite of the differences in ethnicity, culture, age, education, economic and social standing, He has blended us, sinners all but saved by grace, into a harmonious local church.

Kahu Tom Kalili
Kahu Tom Kalili was a member of Moody Radio's organizing committee since 1981, when Moody Bible Institute was first asked to build a Christian radio station in Hilo. Motorola engineer Daniel Schwarz organized the first meeting in the Plumeria Room of the Hilo Lagoon Hotel. In attendance were Daniel Schwarz and Pastor Bob Vance of Grace Baptist Church, and Kahu Tom Kalili and Miles Matsumura of Berean Bible Church.
On January 20, 1997, after sixteen years of preparation, Moody Radio of Hilo went on the air. Two weeks later, supporters gathered to dedicate the facility in memory of the late Reverend Thomas K. Kalili, who went to be with the Lord just seven months earlier. The dedication service was carried live on MBN's "Open Line" program with host radio pastor Donald Cole.
"Koa bowls and ti leaves" -- native implements for blessing ceremonies, used by kahuna (priests) of the old religion as well as many kahu of the Christian religion.