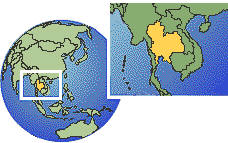 Thailand. What an awsome country.
If you haven't discovered Thailand yet,
let us help you get to know this incredible country.


Across Thailand
Background
: A unified Thai kingdom was established in the mid-14th century. Known as Siam until 1939, Thailand is the only Southeast Asian country never to have been taken over by a European power. A bloodless revolution in 1932 led to a constitutional monarchy. In alliance with Japan during World War II, Thailand became a US ally following the conflict. Thailand is currently facing armed violence in its three Muslim-majority southernmost provinces.
Note: The Kingdom of Thailand draws more visitors than any other country in southeast Asia with its combination of natural beauty, temples, hospitality, cuisine and ruins of ancient kingdoms.
Thailand's border with Myanmar contains a volatile mixture of land mines, bandits, smugglers and rebels, and is prone to occasional low-level military stoushes. Check the latest consular information for the most up-to-date information.
Area
: 514,000 sq km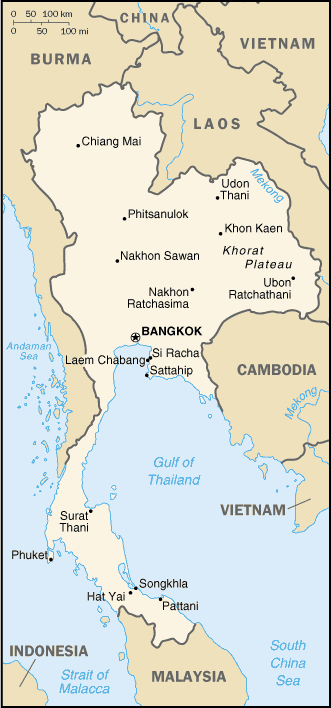 Thailand is approximately the size of France
Climate:
tropical; rainy, warm, cloudy southwest monsoon (mid-May to September); dry, cool northeast monsoon (November to mid-March); southern isthmus always hot and humid
Population
: 64,865,523 (July 2004 est.)
Age Structure:

0-14 years: 24.1%
15-64 years: 68.7%
65 years and over: 7.3%

Religious affiliation:

Buddhism 95%, Muslim 3.8%, Christianity 0.5%, Hinduism 0.1%, other 0.6% (1991)
Ethnic Groups:

Thai 75%, Chinese 14%, other 11%
Languages:

Thai, English (secondary language of the elite), ethnic and regional dialects


Economy:
Thailand has a free-enterprise economy and welcomes foreign investment. Exports feature textiles and footwear, fishery products, rice, rubber, jewelry, automobiles, computers and electrical appliances. Thailand has recovered from the 1997-98 Asian Financial Crisis and was one of East Asia's best performers in 2002. Increased consumption and investment spending and strong export growth pushed GDP growth up to 6.3% in 2003 despite a sluggish global economy. The highly popular government has pushed an expansionist policy, including major support of village economic development.
Labor force by occupation:

agriculture 49%, industry 14%, services 37% (2000 est.)
Industries:

tourism, textiles and garments, agricultural processing, beverages, tobacco, cement, light manufacturing such as jewelry, electric appliances and components, computers and parts, integrated circuits, furniture, plastics, world's second-largest tungsten producer, and third-largest tin producer
Natural
Hazzards
:
land subsidence in Bangkok area resulting from the depletion of the water table; droughts
People living with HIV/AIDS:
570,000 (2003 est.)
Natural Resources:
tin, rubber, natural gas, tungsten, tantalum, timber, lead, fish, gypsum, lignite, fluorite, arable land
Environmental Issues:
air pollution from vehicle emissions; water pollution from organic and factory wastes; deforestation; soil erosion; wildlife populations threatened by illegal hunting
Export Partners:

US 17%, Japan 14.2%, Singapore 7.3%, China 7.1%, Hong Kong 5.4%, Malaysia 4.8% (2003)

Import Parners:

Japan 24.1%, US 9.5%, China 8%, Malaysia 6%, Singapore 4.3%, Taiwan 4.2% (2003)
Communications:

Regular - 6.6 million (2003)
Mobile / Cell - 16.117 million (2002)

Radio Broadcasting Stations - AM 204, FM 334, shortwave 6 (1999)
Television Broadcasting Stations - 5 (all in Bangkok; plus 131 repeaters) (1997)
Internet Country Code - .th
Internet Users - 6,031,300 (2003)