Taiwan ! What an awsome country.
If you haven't discovered Taiwan yet,
let us help you get to know this incredible country.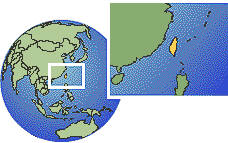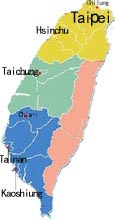 Background
: In 1895, military defeat forced China to cede Taiwan to Japan. Taiwan reverted to Chinese control after World War II. Following the Communist victory on the mainland in 1949, 2 million Nationalists fled to Taiwan and established a government using the 1946 constitution drawn up for all of China. Over the next five decades, the ruling authorities gradually democratized and incorporated the native population within the governing structure. In 2000, Taiwan underwent its first peaceful transfer of power from the Nationalist to the Democratic Progressive Party. Throughout this period, the island prospered and became one of East Asia's economic "Tigers." The dominant political issues continue to be the relationship between Taiwan and China - specifically the question of eventual unification - as well as domestic political and economic reform.
Area
:
total:
35,980 sq km -
land:
32,260 sq km -
water:
3,720 sq km
Climate:
tropical; marine; rainy season during southwest monsoon (June to August); cloudiness is persistent and extensive all year
Population
: 22,749,838 (July 2004 est.)
Age Structure:
0-14 years: 19.9% (male 2,359,467; female 2,167,438)
15-64 years: 70.7% (male 8,149,231; female 7,924,774)
65 years and over: 9.4% (male 1,091,473; female 1,057,455) (2004 est.)

Religious affiliation:
mixture of Buddhist, Confucian, and Taoist 93%, Christian 4.5%, other 2.5%
Ethnic Groups:
Taiwanese (including Hakka) 84%, mainland Chinese 14%, aborigine 2%
Languages:
Mandarin Chinese (official), Taiwanese (Min), Hakka dialects

Economy:
Taiwan has a dynamic capitalist economy with gradually decreasing guidance of investment and foreign trade by government authorities. In keeping with this trend, some large government-owned banks and industrial firms are being privatized. Exports have provided the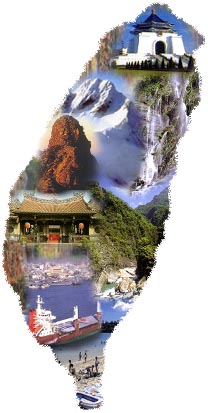 primary impetus for industrialization. The trade surplus is substantial, and foreign reserves are the world's third largest. Agriculture contributes 2% to GDP, down from 32% in 1952. While Taiwan is a major investor throughout Southeast Asia, China has become the largest destination for investment and has overtaken the US to become Taiwan's largest export market. Because of its conservative financial approach and its entrepreneurial strengths, Taiwan suffered little compared with many of its neighbors from the Asian financial crisis in 1998.
The global economic downturn, combined with problems in policy coordination by the administration and bad debts in the banking system, pushed Taiwan into recession in 2001, the first year of negative growth ever recorded. Unemployment also reached record levels. Output recovered moderately in 2002 in the face of continued global slowdown, fragile consumer confidence, and bad bank loans. Growing economic ties with China are a dominant long-term factor. Exports to China - mainly parts and equipment for the assembly of goods for export to developed countries - drove Taiwan's economic recovery in 2002. Although the SARS epidemic, Typhoon Maemi, corporate scandals, and a drop in consumer spending caused GDP growth to contract to 3.2% in 2003, increasingly strong export performance kept Taiwan's economy on track, and the government expects Taiwan's economy to grow 4.1% in 2004.
Labor force by occupation:
agriculture 7.5%, industry 35%, services 57% (2001 est.)
Industries:
Japan 24.2%, US 16.1%, China 7.1%, South Korea 6.9% (2002)
Natural
Hazzards
:
earthquakes and typhoons
Natural Resources:
small deposits of coal, natural gas, limestone, marble, and asbestos
Environmental Issues:
air pollution; water pollution from industrial emissions, raw sewage; contamination of drinking water supplies; trade in endangered species; low-level radioactive waste disposal
Export Partners:
Japan 24.2%, US 16.1%, China 7.1%, South Korea 6.9% (2002)

Communications:

Regular - 13.355 million (2003)
Mobile / Cell - 25,089,600 (2003)

Radio Broadcasting Stations - AM 218, FM 333, shortwave 50 (1999)
Television Broadcasting Stations - 29 (plus two repeaters) (1997)

Internet Country Code - .tw
Internet Users - 8.83 million (2003)