Background
: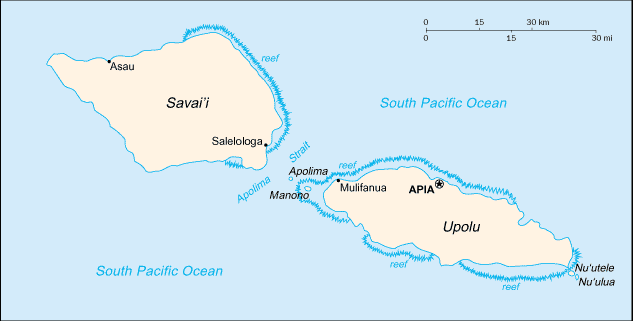 New Zealand occupied the German protectorate of Western Samoa at the outbreak of World War I in 1914. It continued to administer the islands as a mandate and then as a trust territory until 1962, when the islands became the first Polynesian nation to reestablish independence in the 20th century. The country dropped the "Western" from its name in 1997.
Location:

Oceania, group of islands in the South Pacific Ocean, about one-half of the way from Hawaii to New Zealand
Population
: 177,287 (July 2005 est.)
Economy - overview:
The economy of Samoa has traditionally been dependent on development aid, family remittances from overseas, agriculture, and fishing. The country is vulnerable to devastating storms. Agriculture employs two-thirds of the labor force, and furnishes 90% of exports, featuring coconut cream, coconut oil, and copra. The manufacturing sector mainly processes agricultural products. The decline of fish stocks in the area is a continuing problem. Tourism is an expanding sector, accounting for 25% of GDP; about 88,000 tourists visited the islands in 2001. One factory in the Foreign Trade Zone employs 3,000 people to make automobile electrical harnesses for an assembly plant in Australia. The Samoan Government has called for deregulation of the financial sector, encouragement of investment, and continued fiscal discipline, meantime protecting the environment. Observers point to the flexibility of the labor market as a basic strength for future economic advances. Foreign reserves are in a relatively healthy state, the external debt is stable, and inflation is low.
Import - partners:
New Zealand 25.1%, Fiji 21.5%, Taiwan 9.1%, Australia 8.9%, Singapore 8.5%, Japan 7.5%, US 4.7% (2004)


Export partners:
Australia 67.2%, US 5.7%, Indonesia 5.3% (2004)
Agrigultural Products:
coconuts, bananas, taro, yams, coffee, cocoa
Industries
: food processing, building materials, auto parts
Religions:
Congregationalist 34.8%, Roman Catholic 19.6%, Methodist 15%, Latter-Day Saints 12.7%, Assembly of God 6.6%, Seventh-Day Adventist 3.5%, other Christian 4.5%, Worship Centre 1.3%, other 1.7%, unspecified 0.1% (2001 census)



Radio Broadcast Stations

: AM 2, FM 5, shortwave 0 (2004)


Television Broadcast Stations:

2 (2002)
Telephones


- main lines in use:



11,800 (2002)

Telephones
- mobile cellular:



2,700 (2002)




Important Samoa Internet Resources:


Alaska Samoan Community
Australian Mission - With contact information for the Australian High Commission in Samoa
California Samoan Community
Catholic Encyclopedia: Samoa
Central Bank of Samoa
Chamber of Commerce & Industry Inc.: - Samoa's business network
Chiefs of State and Cabinet Members of Foreign Governments: Samoa
Constitution of Samoa
Development Bank of Samoa
Directory of Cities and Towns in Samoa - includes population statistics
EUROPA - Development - Countries - Samoa
Government of Samoa - Official Website
Hawaii Samoan Community
Invest in Samoa - Department of Trade, Commerce and Industry
Literature Relating to Samoa
Ministry of Communications and Information Technology : MCIT
MOFA: Japan-Samoa Relations
National University of Samoa = Le Iuniversite Aoao o Samoa
News, general information and history, course information and fee structure.
Parliament of Samoa
Political, Economic and Relationship Country Paper, Samoa
The special relationship between New Zealand and Samoa is underpinned by the Treaty...
Polynesian Airline of Samoa : Samoa's national carrier
Red Cross Samoa
SAME : Samoa Association of Manufacturers and Exporters
Samoalive.com:: Keeping you in touch with Samoa
Samoa Americana - El estado de los arrecifes de coral de Samoa Americana ... UU, el Parque Nacional
de la Samoa Americana, protegiendo así la selva tropical y los arrecifes ...
Samoa Association of Women Graduates
Samoa's biodiversity - Website on national services for promoting the conservation and sustainable use of Samoa's biological resources.
Samoa Chat
Samoa Cookhouse!
Samoa - Country information

- Australian Department of Foreign Affairs and Trade
Samoa Law - Samoa law resource page with links to the Samoa constitution, Samoa government,
Samoa law, Samoa court, Samoa legal research, Samoa law society, ...
Samoa Polytechnic
Samoa Resorts Accommodation and Travel Guide
Samoa Science Foundation
Samoa Statistical Services
Samoa Travel Information | Lonely Planet Destination Guide
Samoa Visa Information
Samoa Visitors Bureau
Travel Advice for Samoa - Australian Department of Foreign Affairs
Weather Forecast - Samoa Meteorology Division
Welcome to Samoa
WORLD ATLAS - Samoa
WHO (world health organization) | Samoa
WS Domain - Samoa
WTO (world trade organization) | Accession status: Samoa




News


Web Stats