What an awsome country.
If you haven't discovered Malaysia yet,
let us help you get to know this incredible country.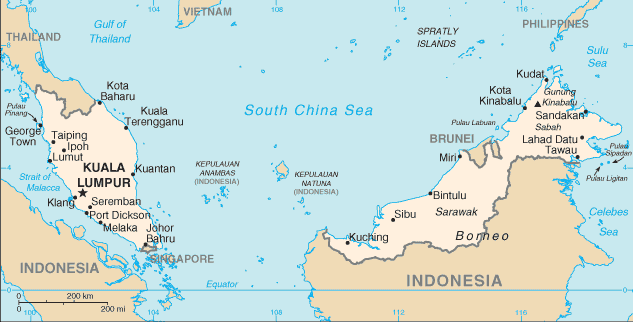 Background
: During the late 18th and 19th centuries, Great Britain established colonies and protectorates in the area of current Malaysia; these were occupied by Japan from 1942 to 1945. In 1948, the British-ruled territories on the Malay Peninsula formed the Federation of Malaya, which became independent in 1957. Malaysia was formed in 1963 when the former British colonies of Singapore and the East Malaysian states of Sabah and Sarawak on the northern coast of Borneo joined the Federation. The first several years of the country's history were marred by Indonesian efforts to control Malaysia, Philippine claims to Sabah, and Singapore's secession from the Federation in 1965.


Area
:
total:
329,750 sq km -
land:
328,550 sq km -
water:
1,200 sq km
Area comparative: slightly larger than New Mexico

Climate:
tropical; annual southwest (April to October) and northeast (October to February) monsoons
Population
: 23,522,482 (July 2004 est.)
Ethnic Groups:
Malay and other indigenous 58%, Chinese 24%, Indian 8%, others 10% (2000)

Religious affiliation:
Muslim, Buddhist, Daoist, Hindu, Christian, Sikh; note - in addition, Shamanism is practiced in East Malaysia

Languages:
Bahasa Melayu (official), English, Chinese dialects (Cantonese, Mandarin, Hokkien, Hakka, Hainan, Foochow), Tamil, Telugu, Malayalam, Panjabi, Thai; note - in addition, in East Malaysia several indigenous languages are spoken, the largest are Iban and Kadazan
Economy:
Malaysia, a middle-income country, transformed itself from 1971 through the late 1990s from a producer of raw materials into a multi-sector economy. Growth was almost exclusively driven by exports - particularly of electronics. As a result Malaysia was hard hit by the global economic downturn and the slump in the information technology (IT) sector in 2001 and 2002. GDP in 2001 grew only 0.5% due to an estimated 11% contraction in exports, but a substantial fiscal stimulus package equal to US $1.9 billion mitigated the worst of the recession and the economy rebounded in 2002 with a 4.1% increase. The economy grew 4.9% in 2003, notwithstanding a difficult first half, when external pressures from SARS and the Iraq War led to caution in the business community. Healthy foreign exchange reserves and a relatively small external debt make it unlikely that Malaysia will experience a crisis similar to the one in 1997, but the economy remains vulnerable to a more protracted slowdown in Japan and the US, top export destinations and key sources of foreign investment. The Malaysian ringgit is pegged to the dollar, and the Japanese central bank continues to intervene and prop up the yen against the dollar.
Population below poverty line: 8% (1998 est.)
Labor force by occupation:
agriculture 14.5%, industry 36%, services 49.5% (2000 est.)
Industries:
Peninsular Malaysia - rubber and oil palm processing and manufacturing, light manufacturing industry, electronics, tin mining and smelting, logging and processing timber; Sabah - logging, petroleum production; Sarawak - agriculture processing, petroleum production and refining, logging
Natural
Hazzards
:
flooding, landslides, forest fires
Natural Resources:
tin, petroleum, timber, copper, iron ore, natural gas, bauxite
Environmental Issues:
air pollution from industrial and vehicular emissions; water pollution from raw sewage; deforestation; smoke/haze from Indonesian forest fires
Export Partners:
US 19.6%, Singapore 15.7%, Japan 10.7%, China 6.5%, Hong Kong 6.5%, Thailand 4.4% (2003)
Import Partners:
Japan 17.3%, US 15.5%, Singapore 11.9%, China 8.8%, South Korea 5.5%, Taiwan 5%, Germany 4.7%, Thailand 4.6% (2003)

Communications: (2004)

Regular Telephones: 4,571,600 (2003)
Mobile / Cell: 11,124,100 (2003)

Radio Stations: AM 35, FM 391, shortwave 15 (2001)
Television Stations: 1 (plus 15 high-power repeaters) (2001)

Internet country code: .my

Internet users: 8,692,100 (2003)

Airports -
117 (2003 est.)
- Heliports:
1 (2003 est.)

HIV/AIDS, People living with:
52,000 (2003 est.)