Japan! What an awsome country.
If you haven't fallen in love with Japan yet,
let us help you get to know this incredible country.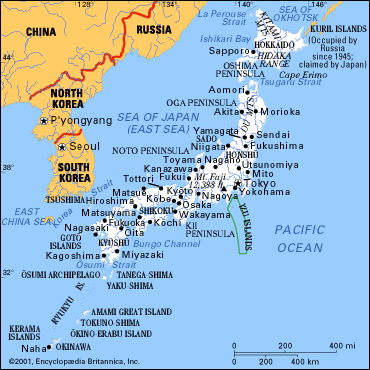 Background
: In 1603, a Tokugawa shogunate (military dictatorship) ushered in a long period of isolation from foreign influence in order to secure its power. For 250 years this policy enabled Japan to enjoy stablity and a flowering of its indigenous culture. Following the Treaty of Kanagawa with the United States in 1854, Japan opened its ports and began to intensively modernize and industrialize. During the late 19th and early 20th centuries, Japan became a regional power that was able to defeat the forces of both China and Russia. It occupied Korea, Formosa (Taiwan), and southern Sakhalin Island. In 1933 Manchuria was occupied and in 1937 a full-scale invasion of China was launched. Japan attacked US forces in 1941 - triggering America's entry into World War II - and soon occupied much of East and Southeast Asia. After its defeat in World War II, Japan recovered to become an economic power and a staunch ally of the US. While the emperor retains his throne as a symbol of national unity, actual power rests in networks of powerful politicians, bureaucrats, and business executives. The economy experienced a major slowdown starting in the 1990s following three decades of unprecedented growth.
Area
:
total:
377,835 sq km
land:
374,744 sq km
water:
3,091 sq km
Area Comparative:
slightly smaller than California
Climate:
varies from tropical in south to cool temperate in north
Population
: 127,333,002 (July 2004 est.)
Religious affiliation:
observe both Shinto and Buddhist 84%, other 16% (including Christian 0.7%)
Ethnic Groups:


Japanese 99%, others 1% (Korean 511,262, Chinese 244,241, Brazilian 182,232, Filipino 89,851, other 237,914)
note: up to 230,000 Brazilians of Japanese origin migrated to Japan in the 1990s to work in industries; some have returned to Brazil (2004)

Languages:
Japanese

Economy:

Government-industry cooperation, a strong work ethic, mastery of high technology, and a comparatively small defense allocation (1% of GDP) helped Japan advance with extraordinary rapidity to the rank of second most technologically-powerful economy in the world after the US and third-largest economy after the US and China. One notable characteristic of the economy is the working together of manufacturers, suppliers, and distributors in closely-knit groups called keiretsu.

A second basic feature has been the guarantee of lifetime employment for a substantial portion of the urban labor force. Both features are now eroding. Industry, the most important sector of the economy, is heavily dependent on imported raw materials and fuels. The much smaller agricultural sector is highly subsidized and protected, with crop yields among the highest in the world. Usually self-sufficient in rice, Japan must import about 50% of its requirements of other grain and fodder crops. Japan maintains one of the world's largest fishing fleets and accounts for nearly 15% of the global catch.

For three decades overall real economic growth had been spectacular: a 10% average in the 1960s, a 5% average in the 1970s, and a 4% average in the 1980s. Growth slowed markedly in the 1990s, averaging just 1.7%, largely because of the after effects of overinvestment during the late 1980s and contractionary domestic policies intended to wring speculative excesses from the stock and real estate markets. Government efforts to revive economic growth have met with little success and were further hampered in 2000-2003 by the slowing of the US, European, and Asian economies. Japan's huge government debt, which totals more than 150% of GDP, and the ageing of the population are two major long-run problems. Robotics constitutes a key long-term economic strength with Japan possessing 410,000 of the world's 720,000 "working robots." Internal conflict over the proper way to reform the ailing banking system continues.



Labor force by occupation:
agriculture 5%, industry 25%, services 70% (2002 est.)
Industries:

among world's largest and technologically advanced producers of motor vehicles, electronic equipment, machine tools, steel and nonferrous metals, ships, chemicals, textiles, processed foods

Natural
Hazzards
:

many dormant and some active volcanoes; about 1,500 seismic occurrences (mostly tremors) every year; tsunamis; typhoons

Natural Resources:
negligible mineral resources, fish
Environmental Issues:

air pollution from power plant emissions results in acid rain; acidification of lakes and reservoirs degrading water quality and threatening aquatic life; Japan is one of the largest consumers of fish and tropical timber, contributing to the depletion of these resources in Asia and elsewhere.


Export Partners:
US 24.8%, China 12.1%, South Korea 7.3%, Taiwan 6.6%, Hong Kong 6.3% (2003)