Fiji! What an awsome country.
If you haven't fallen in love with Fiji yet,
let us help you get to know this incredible country.






Background
: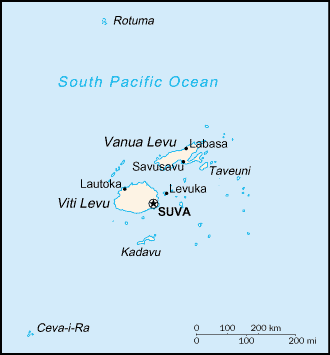 Fiji became independent in 1970, after nearly a century as a British colony. Democratic rule was interrupted by two military coups in 1987, caused by concern over a government perceived as dominated by the Indian community (descendants of contract laborers brought to the islands by the British in the 19th century). A 1990 constitution favored native Melanesian control of Fiji, but led to heavy Indian emigration; the population loss resulted in economic difficulties, but ensured that Melanesians became the majority. Amendments enacted in 1997 made the constitution more equitable. Free and peaceful elections in 1999 resulted in a government led by an Indo-Fijian, but a coup in May 2000 ushered in a prolonged period of political turmoil. Parliamentary elections held in August 2001 provided Fiji with a democratically elected government and gave a mandate to the government of Prime Minister Laisenia QARASE.
Oceania, island group in the South Pacific Ocean, about two-thirds of the way from Hawaii to New Zealand
Climate

:
tropical marine; only slight seasonal temperature variation

Terrain

:
mostly mountains of volcanic origin
Natural resources:
timber, fish, gold, copper, offshore oil potential, hydropower
Population
: 893,354 (July 2005 est.)
Ethnic groups:
Fijian 51% (predominantly Melanesian with a Polynesian admixture), Indian 44%, European, other Pacific Islanders, overseas Chinese, and other 5% (1998 est.)
Religions:
Christian 52% (Methodist 37%, Roman Catholic 9%), Hindu 38%, Muslim 8%, other 2%
note: Fijians are mainly Christian, Indians are Hindu, and there is a Muslim minority (1986)
Languages:
English (official), Fijian, Hindustani
Economy - overview:
Fiji, endowed with forest, mineral, and fish resources, is one of the most developed of the Pacific island economies, though still with a large subsistence sector. Sugar exports and a growing tourist industry - with 300,000 to 400,000 tourists annually - are the major sources of foreign exchange. Fiji's sugar has special access to European Union markets, but will be harmed by the EU's decision to cut sugar subsidies. Sugar processing makes up one-third of industrial activity, but is not efficient. Long-term problems include low investment, uncertain land ownership rights, and the government's ability to manage its budget. Yet short-run economic prospects are good, provided tensions do not again erupt between indigenous Fijians and Indo-Fijians. Overseas remittances from Fijians working in Kuwait and Iraq have increased significantly.
Import - partners:
Australia 25.9%, Singapore 23.1%, New Zealand 21.1% (2004)
Telephones


- main lines in use:



102,000 (2003)
Telephones
- mobile cellular:



109,900 (2003)



Important Fiji Internet Resources:



Air Pacific - Fiji's International Airline
Aquatrek - "adventure specialists"
Art and Material Culture in Fiji
Backpackers Guide to Fiji
Bureau of Statistics - Official Statistics for Fiji
Charting the Pacific - Places - Fiji is one of the most developed of the independent countries of the Pacific.
... At the local level, Fiji is divided into four districts and 14 provinces ...
Fiji Government Online
Fiji (09/05) - Facts about the land, people, history, government, political conditions, economy, foreign relations of Fiji.
Fiji Travel Information | Lonely Planet Destination Guide
Fiji Guide
Fiji Museum
Fiji Tourism Site
High Commission of the Republic of the Fiji Islands to New Zealand
History and Culture - Fiji
hotels & travel
Human Rights Commission - Fiji
Languages / Ethnologue report for Fiji
Laws of Fiji
Lonely Planet - Fiji Map
Ministry of Foreign Affairs and External Trade
Parliament of Fiji
Reserve Bank of Fiji
School of Medicine
Study Abroad - Fiji: Multiculturalism & Social Change - Today, ethnic Indians make up 44 percent of Fiji's population. The program is based in Suva on Viti Levu, Fiji's largest island. ...
Travel Advice for Fiji - Australian Department of Foreign Affairs
Underwater colors
United Nations Development Programme - Fiji Country Office
United States - Washington DC - Explains how to become a permanent resident in Fiji, and provides consular
assistance to Fijians in the US.
University of the South Pacific
Weather in Fiji
Women's Crisis Centre (FWCC)
WORLD ATLAS - Fiji
WTO (world trade org.) | Fiji - Member information
Yellow Pages


News


Sports

Fiji Football - Fiji soccer news, Fiji football news
Fiji rugby — Teivovo.com
Rugby Union Official Website
Scuba Diving, Fishing and Watersports


Web Stats