NEW LAW FORCES CLOSURE OF AT LEAST THREE
CUBAN HOUSE CHURCHES



By Jeremy Reynalds


Monday, January 9, 2006

SURREY, ENGLAND (ANS) -- A British-based human rights organization has learned that at least three Protestant churches have been forcibly closed in Cuba after harsh legislation on house churches was announced in 2005.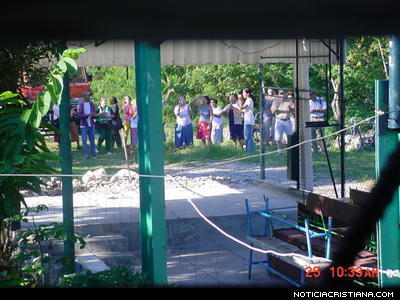 Christian Solidarity Worldwide (CSW) reported that two of the churches, in the western provinces of Guantanamo and Holguin, were forcibly closed. The first was confiscated by local authorities in August and the other threatened with demolition at the end of last year.

A third church, in a suburb of Havana, was demolished at the end of last year while church members looked on. To justify their closure, CSW reported in a news release, all of the churches were targeted by the authorities as being "illegal constructions."

The new legislation, Directive 43 and Resolution 46, was announced in April in the wake of Pope John Paul II's funeral, CSW reported, and required all house churches to register with the authorities.

Church leaders expressed their concern at the time that the registration process was so complicated as to be practically impossible. CSW reported that many church leaders believed this was really an attempt to shut down the house church movement across Cuba.

CSW stated that the organization is very concerned that the three church closures seem to suggest that a new wave of repression of religious freedom could be on the horizon. It is possible that additional churches have also met with a similar fate, CSW reported, but because of security concerns regarding communication in Cuba, this has been impossible to verify.

Stuart Windsor, National Director of CSW, said in a news release, "We learned of these church closures, confiscation and demolition with deep concern. We are calling on the international community to strongly discourage the Cuban government from taking any more measures that would restrict the rights of the Cuban people to meet and worship together. In addition, we call upon the Cuban government to return those buildings that have already been confiscated, allow for the re-opening of those that have been shut down, and authorise the reconstruction of the church that has already been demolished."

One of the major problems faced by Cuban churches, CSW commented, is the difficulty of building, restoring and maintaining religious buildings and places of worship where they can hold services. Current Cuban government policy allows only officially recognized church services in buildings that were constructed prior to the 1959 Revolution.

The construction of a new church, CSW reported, as well as enlarging or renovating existing churches, requires government authorization, which is often given only arbitrarily - if at all. Churches belonging to the government- sanctioned, Cuban Council of Churches are an exception and are often readily granted permission to renovate and build.

Because many churches have grown in the last decade, CSW reported, most existing church buildings are too small to accommodate all their members. The logical alternative for many of these churches has been the establishment of house churches which explains, in part, the expansion of the house church movement across Cuba. There are now an estimated 10,000 - 15,000 house churches across the island, with each accommodating somewhere between 30 and 200 worshipers meeting weekly.

Existing buildings (those built prior to the Revolution), CSW reported, are often over 100 years old and desperately in need of renovation and repair, but official permission is hard to get. However, CSW reported, many churches have gone ahead without seeking permission, renovating and expanding the church facilities as much as finances allow until they are explicitly prohibited from doing so by the government.

Some churches have also built new structures, another practice that has been tolerated by the government until now, CSW stated. However, churches are in a constantly precarious legal position, and are vulnerable to the now very present threat of crippling fines, closure or even demolition.

---

Photos of the church demolition in Alamar, Cuba (a suburb of Havana) are available at www.noticiacristiana.com/news/newDetails.php?idnew=81709&country=0. Click on "Ver Galeria de Fotos."

CSW is a human rights organization which works on behalf of those persecuted for their Christian beliefs.

For more information, please visit www.csw.org.uk


---
| | |
| --- | --- |
| Jeremy Reynalds is a freelance writer and the founder and director of Joy Junction, New Mexico's largest emergency homeless shelter, http://www.joyjunction.org or http://www.christianity.com/joyjunction. He has a master's degree in communication from the University of New Mexico, and a Ph.D. in intercultural education from Biola University in Los Angeles. He has five children and lives in Albuquerque, New Mexico. For more information contact: Jeremy Reynalds at jgreynalds@aol.com. Tel: (505) 877-6967 or (505) 400-7145. Note: A black and white JPEG picture of Jeremy Reynalds is available on request from Dan Wooding at danjuma1@aol.com. | |
---