Population
: about 20,000 - with about half living in the Avarua, the capitol. But then there are more than 20,000 Cook Islanders living in Auckland, New Zealand.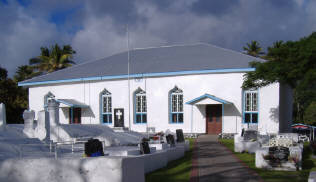 Christianity began in the Cook Islands in the 1820s utilizing Polynesian teachers who were converts in other island groups - especially the Society Islands. These Polynesian missionaries had early success and prepared the way for European missionaries to follow a decade or two later. John Williams made several visits between 1823-1839. Within a few years Cook Islanders were also sent to other islands as missionaries. Christianity is the norm today in the Cook Islands and, like most of the pacific, the church fills a very central place in the culture.
About 70% of the population of the Cook Islands belong to the
Cook Islands Christian Church
(Presbyterian). The next largest group is Roman
Catholic
, estimated at the end of 1994 to have 3,086 adherents. The following are also represented in the islands: Anglicans, the Assembly of God, the Baptist Church, the Church of Latter-Day Saints, the Apostolic Church, the Baha'i faith and Jehovah's witnesses.
Location
: The Cook Islands are located between Tahiti and Tonga, about 4,500 k south of Hawaii.
Major Industries:
Fruit processing, tourism.
Major Trading Partners:
New Zealand, Japan, Hong Kong, Italy, Australia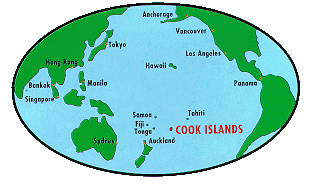 Cook Island Churches
Apostoloc Church - Tengatangi, Atiu, Cook Islands 33778
Assemblies of God - Cook Islands
Avarua Ziona Tapu CICC - Tel. 23760
Avarua Seventh Day Adventist - Tauae, Rarotonga, Cook Islands - 29051
Betela Tai o Te Evangelia
Catholic - Cook Islands - E-mail: cathedral@catholic-church.org.ck
Arorangi, Rarotonga, Cook Islands - 20033
Christian Brothers, Rarotonga, Cook Islands - 20816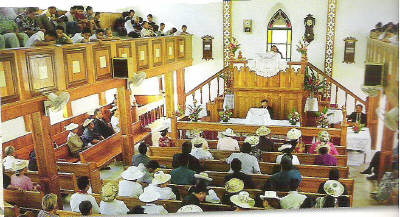 CICC (Cook Island Christian Church) -
most villages throughout the nation
Main Office: Takamoa, POB 93, Rarotonga, Cook Islands
Takaue, Mitiaro - 36126
Teruakiore, Rakahanga - 44000
Takamoa, Rarotanga - 23318

Ngatangiia CICC - Rev Iona
Papaaroa Seventh Day Adventist, Cook Islands - Tel. 22851
St. Joseph's Catholic Cathedral - Avarua
Titikaveka CICC
Ziona Arorangi CICC - 22-331
See more Cook Island churches below

Christian Ministries and Christian Schools in the Cook Islands:
Boys Brigade
Girls Brigade
Takamoa Theological College
Soul Hut Christian Books (at YWAM base)
YWAM Discipleship Training School and Community Service Outreaches





More Cook Island Churches
Australia


Cobury Cook Islands Christian Church, VIC Melbourne, Australia
Cook Islands Uniting Church Melbourn, Australia - Burton Ave., Clayton (Mel 69F7)
Logan Cook Islands Christian Church, QLD, Brisbane, Australia
Presbyterian Church of Victoria - Australia
St. David's Uniting Church, Oakleigh, Australia
New Zealand


Christchurch Cook Island Christian Church - New Zealand
Dunedin - First Church Presbyterian Church - Ph: (03) 477-7150 - New Zealand
Edinburgh Street Pacific Islanders Church - New Zealand
First Church Cook Islands Assembly of God -
15/387 Massey Road, Mangere East -
9 275 0767

Hamilton CICC (Cook Island Christian Church) - New Zealand
Hastings Cook Island Christian Church - New Zealand
Holy Trinity Anglican - Mason Ave., Otahuhu, Auckland - New Zealand
Invercargill - Cook Island Presbyterian Church - Cnr Elles Rd & Manse St - New Zealand
Mangere CICC (Cook Island Christian Church) - Manukau, South Auckland, New Zealand
Manurewa, Cook Islands Christian Church, South Auckland, New Zealand
Motu Tapu, Cook Islands Christian Church, Auckland, New Zealand
Mt Roskill CICC (Cook Island Christian Church) - Auckland, New Zealand
Manukau - Cook Islander Presbyterian Parish - 33 Ferguson Rd - OTARA, South Auckland, New Zealand
Otago - Pacific Is Presbyterian Church - Telephone: (03) 473 1331 - New Zealand
Otara , South Auckland CICC (Cook Island Christian Church) - Manukau, New Zealand
Palmerston North CICC (Cook Island Christian Church) - New Zealand
Papatoetoe, Manukau Cook Island Presbyterian Church - 120 Great South Road - New Zealand
Papatoetoe / Otara CICC (Cook Island Christian Church) - Manukau, South Auckland, New Zealand
Porirua CICC (Cook Island Christian Church) - New Zealand
Porirua East CICC (Cook Island Christian Church) - New Zealand
Rotorua CICC (Cook Island Christian Church) - New Zealand
Tokoroa, St Luke's Pacific Islanders Church - New Zealand