PROSTITUTES WELCOME AT THE 'CALCUTTA HILTON'
TV documentary reveals how a Kiwi couple set up a business to rescue girls and women from sex slavery

By Lavinia Ngatoko of Challenge Weekly, New Zealand

Monday, November 7, 2005
CALCUTTA, INDIA (ANS)
-- The largest red-light district in Calcutta, India is not exactly the kind of place you would expect to find a Kiwi couple and their four children in residence.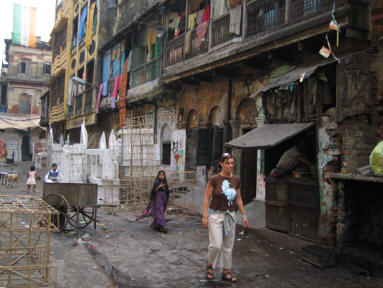 The Calcutta neighborhood in which the Hiltons operate.
But for Kerry and Annie Hilton, who with their children aged eight to 16 left the comforts of Albany, Auckland, for India in 1999, the infamous sex district of Sonnagachi is home.

When the Kiwi couple decided to move to India to help the poor, they never dreamed they would one day end up working with prostitutes. They only discovered quite by accident that the crowded district they had moved into was a place where, every day, 20,000 men seek out the services of the 6000 women who work there.

The couple decided to do some research into the possibility of setting up a business in the area which would provide an alternative source of employment for sex workers.

The result was the establishment in 2001 of Freeset, a viable business that involves the manufacture of jute bags for export.

After meeting Mr. Hilton a few years ago, a former TV3 news editor, John Sinclair, became enthralled with the family's work in Calcutta and developed a passion to tell their story.

About two years ago he took a few months' leave from work, to spend some time in Calcutta shooting footage for a documentary called - Calcutta Hilton.

The finished work, a half-hour documentary presented and co-written by television personality Evie Ashton, will screen on TV2 in New Zealand on Wednesday, November 16, at 11.20pm.

I have seen it – and Calcutta Hilton is a must-see documentary, which will make anyone who watches it think twice before moaning about how miserable his or her life is.

The obvious joy of the former prostitutes at finally finding freedom from sexual bondage will have you smiling.

Then you will find yourself shedding a tear, as the tale unfolds of others, such as Mena, taken from her home in Bangladesh when she was just 13 to be forced to work as a prostitute.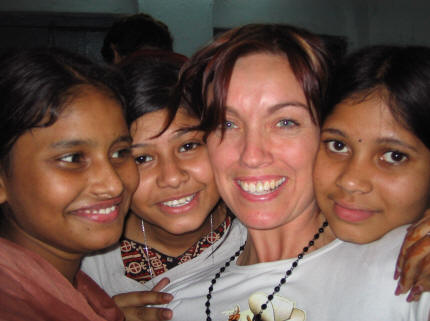 Evie Ashton, presenter and co-writer of the documentary,
with some of the rescued girls
You will be aghast at the night-time scenes of hundreds of men milling about taking their pick from the lines of women, many of them no more than girls. Then there are the scenes of children playing out on the streets well into the evening.

Mr. Sinclair told Challenge Weekly there are now about 50 women working at Freeset, which lately obtained larger premises.

"One of the biggest problems they faced was space," Mr. Sinclair said. "The area is residential area and not geared towards industry. They were working in a poky little room in a residential building. There were an unbelievable number of sewing machines all squashed in there."

At Freeset not only are the women trained to become skilled workers and businesswomen: they are also taught to read and write.

Many of the women in Sonnagachi were stolen from their homes; some were tricked and others sold into prostitution by their friends and families. In the class system of India they compete with the people who handle dead bodies not to be at the bottom of the heap. Most of them are illiterate.

But Mr. Sinclair emphasizes that although the Hiltons are Christians, and Freeset is aimed at releasing prostitutes from sexual slavery, the business is not a charity.

Although ideally the Hiltons would love to take on more employees, they have to be wary of "tripping themselves up. Kerry's a softie. He will do his best to take on a worker but really you just can't take on everyone."

That is the harsh reality of what the Hiltons have to face every day – having to say no because they just cannot afford to take anyone else on. Or losing a worker, who, inevitably, returns to life as a prostitute for a variety of reasons, including alcohol abuse or just because they cannot get out of it.

"For me one of the most heart-breaking experiences was seeing one of the women who previously worked for Freeset standing on the side of the road waiting for clients," said Mr. Sinclair. "She just couldn't deal with the regular hours there."

He says leaving Calcutta after finishing filming was especially hard.

"I didn't even want to leave the women who were amazing – seeing the smiles on their faces when they come to work was so inspiring. The Hiltons were inspiring."

The impression imprinted on his heart from his time at Freeset was so indelible that he gave up work to go back this year for six months to help out in any way he could.

"I made some promotional videos for them, did some graphic and publicity work and helped with the ongoing renovation scheme in their new building."

Mr. Sinclair said that the documentary had lots of elements of drama and poverty but most of all it offered some hope.

"It is a positive story of hope. It's one day at a time, one person at a time. For every person helped that is a whole life changed. You can't change the whole world at once but you can make a difference."

It was also important to look at the long-term goal of not only helping the women, but the men who had been brought up believing that it was okay to abuse these women.

"We have to help the men; they grow up thinking this behavior is normal."

But, for the moment the Hiltons will continue to battle against the class system, the women's own feelings of shame and the ruthlessness of those who "own" them or are against their striving to offer freedom to thousands.

As Mr. Hilton said: "It's not about giving them jobs; it's all about giving them freedom."

---
Lavinia Ngatoko is a reporter for Challenge Weekly, New Zealand's non-denominational,
independent national Christian newspaper, the first in the world to carry that masthead.