Bangladesh ! What a country.
If you haven't discovered Bangladesh yet,
let us help you get to know this incredible country.


Background
: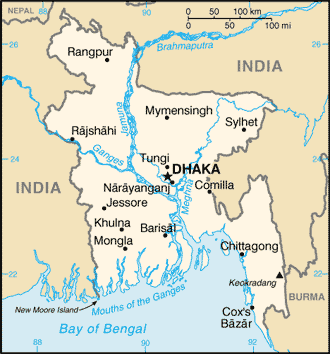 Bangladesh became a country in 1971 when Bengali East Pakistan seceded from its union with West Pakistan. About a third of this extremely poor country floods annually during the monsoon rainy season, hampering economic development.

Area
:

144,000 sq km

(to compare, it's slightly smaller than Iowa, if that helps)
Climate:
tropical; mild winter (October to March); hot, humid summer (March to June); humid, warm rainy monsoon (June to October)
Population
:
141,340,476 (July 2004 est.)
Age Structure:
0-14 years: 33.5% (male 24,359,149; female 23,013,811)
15-64 years: 63.1% (male 45,557,963; female 43,626,950)
65 years and over: 3.4% (male 2,575,519; female 2,207,084) (2004 est.)
Religious affiliation:


Muslim 83%, Hindu 16%, other 1% (1998)

Ethnic Groups:

Bengali 98%, tribal groups, non-Bengali Muslims (1998)
Languages:

Bangla (official, also known as Bengali), English


Economy:


Bangladesh remains a poor, overpopulated, and ill-governed nation despite sustained domestic and international efforts to improve economic and demographic prospects. Although half of GDP is generated through the service sector, nearly two-thirds of Bangladeshis are employed in the agriculture sector, with rice as the single-most-important product. Major hindrances to growth include frequent cyclones and floods, inefficient state-owned enterprises, inadequate port facilities, a rapidly growing labor force that cannot be absorbed by agriculture, delays in exploiting energy resources (natural gas), insufficient power supplies, and slow implementation of economic reforms. Economic reform is stalled in many instances by political infighting and corruption at all levels of government. Progress also has been blocked by opposition from the bureaucracy, public sector unions, and other vested interest groups. The government has the parliamentary strength to push through needed reforms, but the party's political will to do so has been lacking in key areas. One encouraging note: growth has been a steady 5% for the past several years.

Labor force by occupation:
agriculture 63%, industry 11%, services 26% (FY95/96)

note: extensive export of labor to Saudi Arabia, Kuwait, UAE, Oman, Qatar, and Malaysia; workers' remittances estimated at $1.71 billion in 1998-99 (2003)

Agricultural Products:


rice, jute, tea, wheat, sugarcane, potatoes, tobacco, pulses, oilseeds, spices, fruit; beef, milk, poultry

Industries:
cotton textiles, jute, garments, tea processing, paper newsprint, cement, chemical fertilizer, light engineering, sugar
Natural
Hazzards
:
droughts, cyclones; much of the country routinely inundated during the summer monsoon season
Natural Resources:
natural gas, arable land, timber, coal
Environmental Issues:


many people are landless and forced to live on and cultivate flood-prone land; water-borne diseases prevalent in surface water; water pollution, especially of fishing areas, results from the use of commercial pesticides; ground water contaminated by naturally occurring arsenic; intermittent water shortages because of falling water tables in the northern and central parts of the country; soil degradation and erosion; deforestation; severe overpopulation
Export Partners:


US 23.9%, Germany 13.6%, UK 9.7%, France 5.9% (2003)


Import Partners:


India 15.4%, China 11.3%, Singapore 10.8%, Japan 5.9%, Hong Kong 4.5% (2003)

Communications: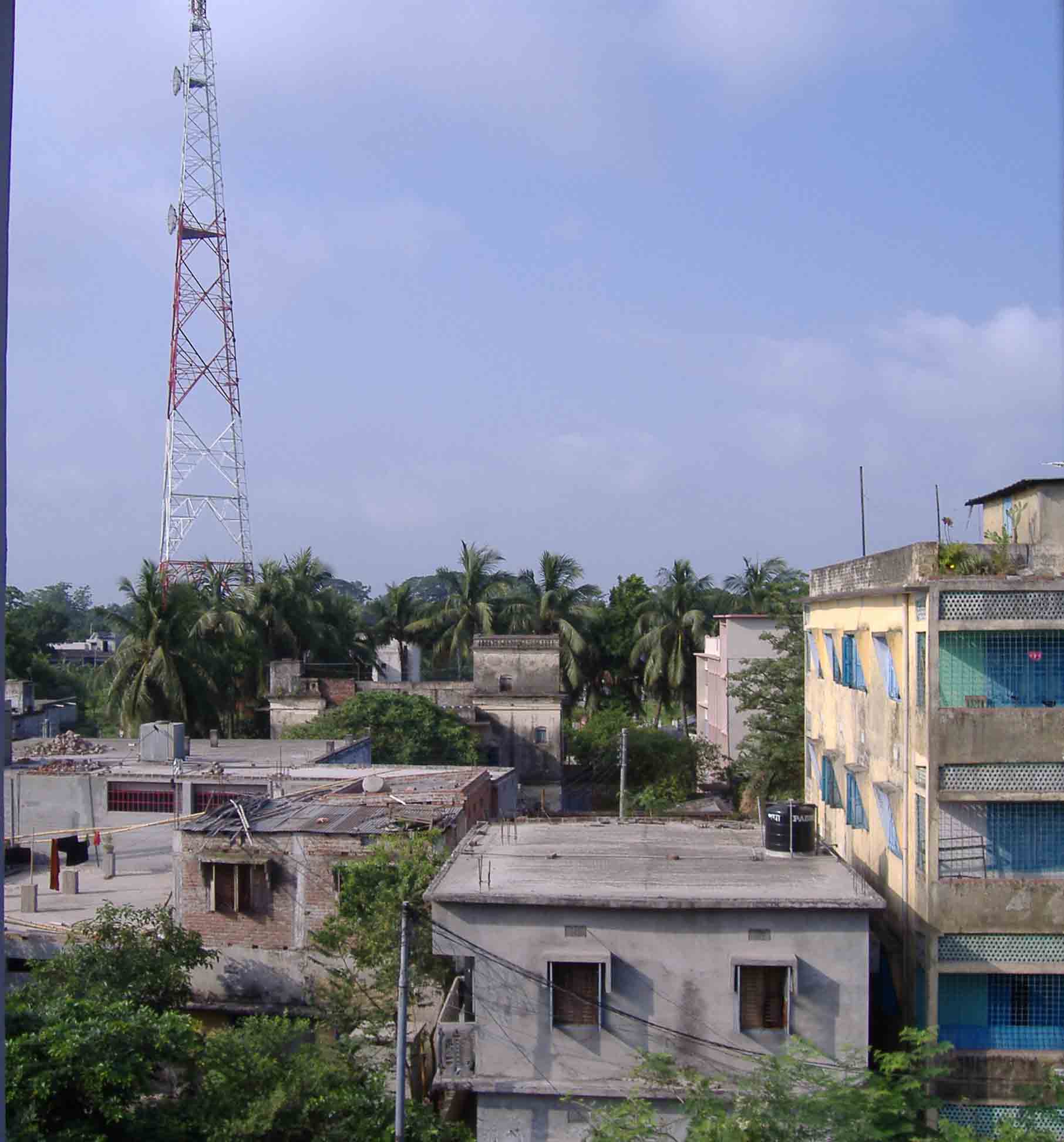 Telephones:
regular: 740,000 (2003)
mobile: 1.365 million (2003)