Pakistan's Bhutto Assassinated in Attack at Rally
Christians in Pakistan Condemn Killing

By Jeremy Reynalds
Correspondent for ASSIST News Service
PAKISTAN (ANS) -- Former Pakistani Prime Minister Benazir Bhutto was assassinated in an election-rally attack in Rawalpindi, threatening the stability of a nuclear-armed nation that is a focal point of the West's war on terror.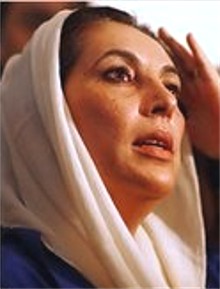 Benazir Bhutto (Reuters)
Bloomberg News reported that police said at least 16 people died and more than 60 were injured in the gunfire-and-bomb attack on Bhutto's rally. The opposition leader, 54, had survived a previous attempt on her life when she returned from exile two months ago.
Bloomberg said that rioting broke out as her supporters gathered outside the hospital where her death was confirmed and in cities across Pakistan. President Pervez Musharraf, who had allowed her return to participate in parliamentary elections planned for Jan. 8, appealed for calm in a message broadcast on state television.
"I don't think elections will be possible now,"' Hassan Abbas, a Pakistani political analyst at Harvard University, told Bloomberg.
The Pakistan Christian Post reported that Christians in Pakistan condemned the killing, and said that Nazir S. Bhatti, President of Pakistan Christian Congress, has declared Dec. 27 2007, as a "Black Day" in the history of Pakistan. He called Bhutto the voice of democracy and the poor.

The Post said Bhatti called the "death of (Bhatti) a grave challenge to the government on the safety and security of the people of Pakistan, and a total failure of the establishment. It was the responsibility of the government to secure the life of Benazir Bhutto, but it seems that security measures were neglected and (this) sad incident happened."
Bhatti said, "Pakistani Christians extend (their) grief on the death of Benazir Bhutto, and demand (justice) and the immediate arrest of the culprits."
Bloomberg said that the death of the nation's most popular politician also deepens a vacuum within its civilian leadership to the benefit of the two other communities that strive to rule Pakistan: the military and Islamic militant movements.
"`Long-term, it raises very, very serious questions about the stability of Pakistan,"' Farzana Shaikh, Pakistan analyst at the London-based Chatham House foreign policy institute, told Bloomberg in a phone interview from Montpellier, France.
Mourning Period
Musharraf announced three days of mourning in the country.
"We will fly the Pakistan flag at half-mast in her honor,"' Bloomberg reported Musharraf said. "Terrorists are the greatest threat to Pakistan and we won't rest till we defeat terrorism."'
Bloomberg said that Musharraf convened an emergency meeting with top officials to discuss their response to the assassination, according to state-run Associated Press of Pakistan.
It wasn't immediately clear whether Bhutto, the first female leader of an Islamic nation, died in the blast or was shot by the bomber before he blew himself up, Bloomberg News reported Bhutto spokesman Farhatullah Babar told state-run television. Interior Ministry spokesman Javed Cheema said earlier in a phone interview that she was killed in the bombing.
Bloomberg reported that in Rawalpindi, where the army has its headquarters, shops were torched and Bhutto's backers clashed with police. Bhutto supporters poured into the streets across Sindh, the southern province that was her home, burning tires and setting fire to shops in Tando Allah Yar, Khairpur and Larkana, where she lived.
``It was Benazir Bhutto that posed the main threat to pro- Musharraf parties,'' Chatham House's Shaikh told Bloomberg.
Worldwide Condemnation
World leaders condemned the killing, and the United Nations Security Council scheduled a meeting later today to discuss the assassination. UN Secretary-General Ban Ki-moon asked Pakistanis to "work together for peace and national unity.''
Bloomberg reported that President George W. Bush said from his ranch in Crawford, Texas, "We stand with the people of Pakistan in their struggle against the forces of terror." The U.S. had backed a partnership between Bhutto and Musharraf.
``The manner of her going is a reminder of the common dangers that our region faces from cowardly acts of terrorism and of the need to eradicate this dangerous threat,'' Bloomberg reported that Manmohan Singh, prime minister of neighboring India, said in an e-mailed statement. "Mrs. Bhutto was no ordinary political leader, but one who left a deep imprint on her time and age."
The New York Times has posted an obituary for Bhutto at www.nytimes.com/2007/12/28/world/asia/28bhuttocnd.html?_r=1&hp&oref=slogin and an op-ed she wrote last month at www.nytimes.com/2007/11/07/opinion/07bhutto.html
---
Jeremy Reynalds is a freelance writer and the founder and director of Joy Junction, New Mexico's largest emergency homeless shelter, http://www.joyjunction.org or http://www.christianity.com/joyjunction. He has a master's degree in communication from the University of New Mexico, and a Ph.D. in intercultural education from Biola University in Los Angeles. His newest book is "Homeless in the City: A Call to Service." Additional details about "Homeless" are available at http://www.HomelessBook.com