Heroes Across Pacific Magazine




ADRIAN ROGERS
SOUTHERN BAPTIST LEADER, PASSES AWAY AT 74

By Michael Ireland




Tuesday, November 15, 2005

MEMPHIS, TENNESSEE (ANS) -- Tributes from Christian leaders are pouring in after the Rev. Adrian Rogers, a three-time president of the Southern Baptist Convention and leader of a conservative takeover of the faith, passed away early Tuesday, Nov. 15 in Memphis. He was 74.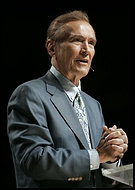 According to The Associated Press (AP), his death was announced by Baptist Press News and by Rogers' Love Worth Finding ministry. Officials of the Nashville-based Southern Baptist Convention Executive Committee didn't immediately return calls seeking comment.

Rogers was hospitalized earlier this month with pneumonia and cancer, his ministry's Web site said.

Rogers was elected president in 1979 as part of the conservative takeover of the convention. His election turned out to a be a watershed moment for the denomination, and the 16-million-member group shifted dramatically to the right politically and theologically.

In the years that followed, conservative leaders pushed hard against abortion rights, homosexuality and women pastors.

Rogers also was elected president of the SBC in 1986 and 1987. He was pastor of the 28,000-member Bellevue Baptist Church in Memphis for 32 years, retiring this past March.

"There's no one in this country I respect more than Adrian Rogers," Focus on the Family's Dr. James Dobson said on Rogers' last day as pastor. "You draw me to Christ. When I'm with you, I feel closer to the Lord."

Among those who attended Rogers' final sermon were Sen. Lamar Alexander, R-Tenn., and Rep. Harold Ford Jr., D-Tenn.

During his career, Rogers conducted religious crusades in Taiwan, South Korea, Israel, Russia, Romania, and in Central and South America.

In 2003 he was inducted into the Hall of Fame by the National Religious Broadcasters.

ADRIAN ROGERS' OBITUARY

Dr. Adrian Rogers, one of the greatest preachers and Christian leaders of the 20th century, died November 15, 2005. Like Ezra, the great leader of ancient Israel, Dr. Rogers committed his life to one overarching purpose: the preaching and teaching of God's Word. "For Ezra had prepared his heart to seek the law of the Lord, and to do it, and to teach in Israel statutes and judgments" (Ezra 7:10).

Dr. Rogers succumbed to pneumonia after battling cancer that was diagnosed soon after his March 2005 retirement from 32 years as pastor of the Bellevue Baptist Church in Memphis Tennessee. One of America's largest churches, Bellevue has more than 29,000 members and a ministry that reaches around the world. The church grew and thrived under the dynamic preaching and loving pastoral care of Dr. Rogers. He was named Pastor Emeritus of the church at his retirement.

Dr. Rogers was preceded in death by his parents, Arden and Rose Rogers, and by an infant son, Phillip. He is survived by his wife of 54 years, the former Joyce Louise Gentry of West Palm Beach, Florida; their four children: Stephen, Gayle, David, and Janice; nine grandchildren and one great-grandchild born November 14, 2005.

Adrian Pierce Rogers was born September 12, 1931 in West Palm Beach, Florida. A star quarterback in high school, Dr. Rogers attended Stetson University in Deland, Florida on a football scholarship, which he relinquished to follow God's call into the ministry. He received a B.A. from Stetson in 1954, and earned a Master of Theology degree from New Orleans Baptist Theological Seminary in Louisiana in 1958.

Dr. Rogers was also awarded numerous honorary degrees, including the Litterarum Doctor degree from the California Graduate School of Theology in Glendale, California in 1979, and the Doctor of Sacred Theology degree from Liberty Baptist Theological Seminary and Liberty University in Lynchburg, Virginia in 2003.

Dr. Rogers held several pastorates in Florida before coming to Bellevue Baptist Church in 1972 and guiding the church through more than three decades of growth and outreach.

In addition to his pastoral ministry, Dr. Rogers exercised tremendous national and international influence as a spiritual leader and true Christian statesman. He was active in national leadership, and personally consulted and prayed with five presidents of the United States. He recently shared the platform with President George W. Bush in the White House on the National Day of Prayer for America.

Dr. Rogers was also a distinguished leader in the Southern Baptist Convention, the world's largest Protestant denomination. He was elected president of the Convention three times, and held the distinction of being the only man to be elected three times to this office under the present bylaws.

God's blessing on Dr. Rogers's ministry of clear, powerful Bible teaching became even more evident with the birth of Love Worth Finding Ministries in 1987. Dr. Rogers was the founder and Bible teacher of Love Worth Finding, an internationally syndicated television and radio ministry. Love Worth Finding debuted as a one-hour television broadcast on 17 stations and 30-minute radio broadcast debut on 19 stations. From that beginning, Love Worth Finding has grown to become one of America's leading Christian broadcasts. The program can be heard weekly on a worldwide television network of over 12,000 outlets, and also through a daily broadcast over nearly 2,000 radio stations and translators. The remarkable scope of the outreach of Dr. Rogers messages extends the broadcast to more than 150 countries around the world.

Dr. Rogers was also a widely published author, with 18 books to his credit. He was also the author of 49 published booklets (18 in Spanish) and 79 albums of published messages.

Accolades from national and Christian leaders reveal the depth of the integrity, faithfulness, love, and wisdom that marked the life and ministry of Adrian Rogers. Dr. Billy Graham once said of him, "We need for ministers of the Gospel to defend the Bible as the infallible Word of God… I believe in my heart that Adrian Rogers is such a man. I know him personally. I have walked with him and prayed with him… I know God's hand is upon Adrian Rogers as he proclaims the Bread of Life from his church and through radio and television…I praise God for his ministry!"

Dr. James Dobson of the Focus on the Family radio program knew Dr. Rogers as a member of the Focus board of directors and a close personal friend. "Adrian's contribution to this ministry over the years was incalculable. As a member of our Board of Directors, he provided godly wisdom and counsel on countless occasions. We couldn't have had a better leader filling that vital position – God blessed us significantly in giving us Dr. Rogers."

Former President George H. W. Bush was also a friend of Dr. Rogers. "Here is a man whom Southern Baptists kept coming to. He served them as president of the Convention . . . and on top of everything else, he pastored one of the largest churches in the world… There are many who presume to speak for the evangelical movements, but surely Dr. Rogers was one of the handfuls who truly represented them. He was a great man with a lot of influence and a lot of wisdom…"

Chuck Colson, former advisor to President Richard Nixon and founder of Prison Fellowship, said, "In my opinion, Adrian Rogers was one of the truly great preachers in America, and a beloved friend. This was God's man with God's message."

Adrian Rogers was also a much beloved husband, father, grandfather, and friend who will be greatly missed by his family and all who knew him. Of all his accomplishments, Dr. Rogers often said that his greatest joy centered in his relationship to Jesus Christ, his childhood sweetheart and wife, Joyce, his children and grandchildren, and the church he pastored. The recipient of many honors and awards, the trophy he treasured most was one presented to him by his children on Father's Day in which he was acclaimed The World's Greatest Dad.

STATEMENT FROM DR. ROGERS' FAMILY

"At this time of grief, the Rogers family – Mrs. Joyce Rogers; Steve & Cindi Rogers, and their daughter, Renae Rogers; Mike & Gayle Foster, and their sons, Michael & Adrian Foster; David & Kelly Rogers, and their sons, Jonathan & Stephen Rogers; and Bryan & Janice Edmiston, and their children, Angela Luce, and Rachel, Andrew & Breanna Edmiston – would like to thank all who have offered prayers, sent expressions of love and kindness, and given practical help on behalf of our family during these days. We are also especially grateful for the wonderful team of doctors, nurses, and other medical staff, who have given the very best of their time, knowledge, and creative energy, in order to preserve the life of our beloved husband, father, and grandfather, and minimize his physical pain.

"Although we had all maintained hope up to the very end for a miraculous restoration of his health, we are comforted in the knowledge that he is now resting in the presence of his Lord and Savior to whom he dedicated his life and ministry on this earth. We cling to the assurance of God's grace, as He, in His infinite wisdom, has determined the right timing of his homecoming.

"On various occasions, he had proclaimed: 'when my time comes, don't be sorry for me; I'll be kicking up gold dust on the streets of glory.' Shortly after being admitted to the hospital diagnosed with cancer-induced pneumonia, he stated 'this is a win-win for me,' indicating his confidence that, whether God chose to heal him or not, he was in his hands. Among the last words that he uttered before being hooked up to the ventilator which inhibited his speech during his last days were 'I am at perfect peace.' His favorite Bible passage was Romans 8:38-39: 'For I am persuaded, that neither death, nor life, nor angels, nor principalities, nor powers, nor things present, nor things to come, nor height, nor depth, nor any other creature, shall be able to separate us from the love of God, which is in Christ Jesus our Lord.'

"His last days, spent in the hospital on artificial ventilation, were marked by an unusual sense of spiritual strength and serenity. He maintained his positive attitude and sense of humor up to the very end. Even during this time, in which he was unable to communicate verbally, we all felt his deep love for us. Moments before undergoing intubation, he wrote a note containing the words 'I love you!' and the names of his four children and their spouses, his nine grandchildren, and his first great-grandchild, Marianna Rose Luce, born on November 14th. A second note expressed his love for his wife, Joyce, who later commented: 'In all our life together, there was never a day that passed that he did not say 'I love you.' "

"We, although deeply saddened by our loss, are at the same time profoundly grateful for the many years of happiness we have been blessed to share with this wonderful prince of a man named Adrian Rogers.

"The family kindly requests that any memorials be sent to the "Adrian Rogers Pastor Training Institute" (PTI) , a division of Love Worth Finding Ministries, to go toward the continuance of his ministry and vision to train pastors for the furtherance of the Gospel here and around the world. Gifts may be sent to the 'Adrian Rogers Pastor Training Institute,' c/o Love Worth Finding, 2941 Kate Bond Road, Memphis, TN 38133. Or call (901) 382-7900."



MEMORIAL SERVICES

Wednesday 11/16 – Bellevue Baptist Church

5 – 8 PM Adrian Rogers' body will Lie in State

Thursday 11/17 – Bellevue Baptist Church

1- 4 PM Adrian Rogers' body will Lie in State

4 – 6 PM Visitation

6 PM Memorial Service

On the Net: Love Worth Finding:

www.lwf.org



---
| | |
| --- | --- |
| ** Michael Ireland is an international British freelance journalist. A former reporter with a London newspaper, Michael is the Chief Correspondent for ASSIST News Service of Garden Grove, California. Michael immigrated to the United States in 1982 and became a US citizen in September, 1995. He is married with two children. Michael has also been a frequent contributor to UCB Europe, a British Christian radio station. | |