Saving Sarah Cain
must-see hit with the family, to be released on DVD

By Michael Ireland

LOS ANGELES, CALIFORNIA (ANS) -- Sarah Cain is not quite at the top of her game. She is, in fact, a journalist in danger of losing her column to a particularly bad case of writer's block.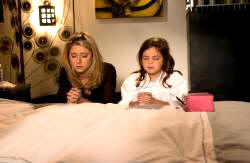 Sarah Cain prays with her niece Hannah in the movie.
Her harried, high maintenance lifestyle is interrupted one evening with a phone call from her niece Lyddie informing her that Sarah's sister has died, leaving Lyddie and four siblings orphans with only one living relative -- Sarah herself.
Michael Landon, Jr., and Brian Bird, who produced The Last Sin Eater, have teamed up again to create a film that first premiered on the Lifetime Network.
Based on the best-selling book by Beverly Lewis "Saving Sarah Cain" (the novel is "The Redemption of Sarah Cain"), the film tells the story of a newspaper reporter from Portland, Oregon who suddenly gains custody of her sister's 5 children who were raised in an Amish community.
Sarah decides to bring her nieces and nephews back with her to to her spacious downtown loft condo and enrolls them in school in Portland, rather than have them placed into foster care. What follows is a culture clash that is expressed in entertaining and poignant ways. Both the children and Sarah come to realize that to become a family, sacrifices and hard choices will have to be made.
The film begins with Sarah Cain (Lisa Pepper), who is a successful columnist at the Portland Times. Her daily column has been rejected by her boss Bill (Elliott Gould) who claims that she once wrote about her life, and has now degraded herself to writing cheesy columns. She is furious, and heads over to the local restaurant where she meets with her boyfriend Bryan (Tom Tate). Sarah's phone rings, and it is Lyddie: Sarah's older sister Ivy has died of heart failure. Sarah runs to Lancaster County, Pennsylvania for the funeral.
Her sister, however, was a member of the Amish community, and Sarah has never forgiven her for leaving the family. As the sole surviving relative, Sarah is the legal guardian of her five children. 16 year-old Lyddie (Abigail Mason) protests, but Sarah is given the choice as the bishop is holding a hearing tomorrow: they do not want an outsider raising the children. While there, both Lyddie and another Amish member Miriam (Tess Harper) convinces Sarah to stay the night. While there, knowing that her deadline is coming up for the daily column, Sarah writes about her day's events and sends them to Bill as a las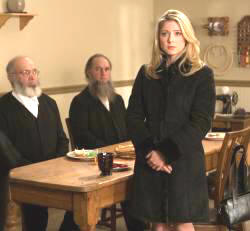 Sarah Cain stands before the Amish Bishops.

t resort.

The next day at the hearing, Sarah receives a surprising email about her piece: he wants more as fanmail keeps pouring in. Sarah takes the children back to her home, as she is now their guardian, and the Amish children try to fit in and make new friends. The eldest child, Lyddie, is the only one to stay at home and do her daily chores. Despite being labelled as freaks at school, Caleb (Soren Fulton) makes it on the wrestling team, and after a bad first day, Anna Mae (Danielle Chuchran) gains attention after taking and wearing Sarah's clothing in order to fit in. Josiah (Tanner Maguire) hates it there. Only Hannah (Bailee Madison) is accepted on her first day in kindegarten class.

Bill likes the attention that the articles about the Amish children has produced, but Sarah rejects further offers at seeing the daily column as a continued phase. Meanwhile, Madison (Jennifer O' Dell), Sarah's rival at the same paper company gets wind of where they attend school and a news team shows up during one of Caleb's wrestling matches. Later that night, Sarah admits to the kids that the situation has spun out of control. Only Lyddie voices objection, saying it has gone against their traditions and beliefs, while the other kids defend and accept Sarah's apology. The resulting fight has Josiah to pack up and leave home by himself. While the family scrambles to find him, they later find Josiah behind a tree. Sarah takes the whole family back to their Amish community and leaves them in the care of Miriam. As Sarah leaves the community, the other kids try to catch up with her. Sarah stops, and Lyddie hand her a letter in which Ivy made before she died. It is only then that the truth is revealed: Ivy wanted Sarah to have the kids as an apology for breaking her heart, and that they "will be blessings to her as they were to me."

In its review of the movie, Relevantmagazine.com says those who have read Beverly Lewis's novel The Redemption of Sarah Cain need not have any trepidation about slight plot changes from the print version, as the movie is an entirely different experience. The review says any deviations from the novel in making Saving Sarah Cain were good ones.

The online review concludes: "But the main reason this film is worth watching is for what it's not. It's not offensive, preachy or over-the-top, and it's not a story that has been told a dozen times and in a dozen different ways. As one character says, 'Five 19th century kids in the big city with a 21st century single woman. You couldn't ask for a better premise than that?'"

Amazon.com in its Editorial Review by Jae-Ha Kim says "Saving Sarah Cain is a sweet film with an Afterschool Special vibe about a family thrown together by unfortunate circumstances."

This review says the movie is about when her Amish sister dies, Sarah (Lisa Pepper, What About Brian) is forced to question her priorities, should she move to Pennsylvania where the children feel safe within their Amish community, or should she relocate them to Oregon where she has a successful career as a newspaper columnist?

Presuming that the children are more adaptable than she is, Sarah opts for the latter and gives it a shot at making the kids feel at home. But the five orphans have a difficult time trying to fit in to the modern world. They also are still grieving the loss of their mother, whose ways were much different than that of their more abrupt aunt.

Amazon.com's reviewer says that: "Like his father, the younger Landon has a deft touch at creating scenarios that are heart-tugging, but not too maudlin. The fish-out-of-water concept isn't a new one, but it's executed well by both Pepper and the young actors portraying the children. Though the film tries to force a surprise ending, the outcome is expected and welcome. And while no one has a miraculous change of heart, the viewer can see that the sextet is creating its own kind of family -- one that works for within the frame of their unique circumstances."

In July 2007, more than 600 guests at the annual International Christian Retail Show were treated to a sneak preview of the movie that started off with a mini-concert by Point of Grace. (The title song from their new album "How You Live" is a featured part of the beautiful soundtrack for the film.) After a question-and-answer session with Michael, Brian, Beverly Lewis, and Soren Fulton and Abigail Mason (cast members), the audience stood to their feet in a spontaneous ovation. Ms. Lewis expressed her appreciation for the filmmakers' faithful interpretation of her book and felt it beautifully portrays the story she created.

Energized by a great soundtrack featuring Christian artists Point of Grace, and highlighted by beautiful cinematography, the film should be enjoyed by the whole family.

Here are the names of the songs featured on the soundtrack:

1. How You Live (Point Of Grace)
2. Saving Sarah Cain Main Titles
3. Sea Shells
4. Farewell
5. Dishes are Never A Chore
6. Sarah's Story
7. Love Letter
8. Nay! (Josiah's Tree Climb)
9. Those Were Our Tears!
10. Here's My Life (BarlowGirl)
11. You're OK in Everyway
12. Five Amish Orphans
13. She Prayed For You Everyday
14. Don't Leave Us
15. Prayer Changes Everything
16. You Carried Me (Building 429)

The DVD release is planned for mid-January.
---
| | |
| --- | --- |
| ** Michael Ireland, Chief Correspondent of ANS, is an international British freelance journalist who was formerly a reporter with a London newspaper and has been a frequent contributor to UCB Europe, a British Christian radio station. Michael's involvement with ASSIST News Service is a sponsored ministry department -- Michael Ireland Media Missionary (MIMM) -- of ACT International at: Artists in Christian Testimony (ACT) International. | |