HENRY OPUKAHA'IA OF HAWAII

by Chris Cook
Henry Opukaha'ia (Obookiah) was born in Ka'u, near the village of Punalu'u on the Island of Hawai'i. His approximate birthyear was about 1792. He was orphaned at the age of 10 or 12 after fleeing a bloody battle between Hawaiian warriors seeking control of the island of Hawai'i. His father's tribe lost the battle and the victors attacked the family's village. Henry's family fled, and while seeking drinking water they were spotted and his parents were killed. Henry tried to run with his infant brother on his back, but the infant was killed by a spear intended for him.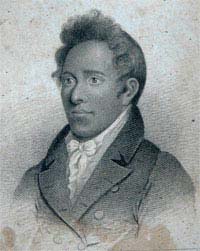 Henry eventually was given to his uncle, a kahuna or priest in South Kona at the Hikiau Heiau at Napo'opo'o. He was again later captured by enemies of his family, faced death, and escaped. Then a great change occurred in his spirit. A desire to leave Hawai'i grew within him and he longed to find comfort in another country. At that time the ship Triumph out of New York and New England sailed into Kealakekua Bay and Henry swam out to her and climbed aboard. Through an interpreter he asked Captain Caleb Brintnall to take him on as a crewmember. At dinner that night Henry met Thomas Hopu, another Hawaiian youth, and the two became fast friends. Brintnall's Yankee pronunciation of Opukaha'ia came out Obookiah, and the Anglicized name became his common name aboard ship and later in New England.
Henry's uncle objected to his leaving, and forced him to return home. However, he soon again escaped. Finally, the uncle realized he couldn't keep his nephew from leaving and consented to his departure, but asked for a pig to sacrifice to his god in return for the boy.
The Triumph set sail for the Pacific Northwest to pick up sealers, one of whom, Russell Hubbard, was a Yale student from Connecticut. Six months later the ship returned to Hawai'i, then went on to China, and finally New York. During the long voyage Hubbard tutored Henry and Hopu in English.
Brintnall brought the two Hawaiian youths to his Connecticut home. Henry worked as a servant and wandered the streets of the seaport of New Haven and became friends with students at Yale. Some students witnessed to Henry, and he attended church on Sundays with Brintnall.
One day, frustrated by his limited English and desire to join the students at Yale, Henry sat on the threshold of one of the buildings and wept because "nobody gave him learning." He was discovered by Edwin W. Dwight of Yale, who began his formal education.
Preparing for his next voyage, Brintnall offered to sail Henry back to Hawai'i, but the young man refused. Henry then left Brintnall's home and became a resident in the home of Dr. Timothy Dwight, president of Yale College and brother of Edwin. Samuel Mills, Jr., one of the college men who began the vision for the American missionary movement at the famous Haystack Meeting in 1807, befriended Henry while he stayed with the Dwights. Henry told Mills that he desired to learn to read the Bible so he might bring the Gospel to Hawai'i. At this time America had no foreign missions program, except for work with native Americans. However the story of Henry's weeping on the steps at Yale became widely publicized and significantly sparked the American missionary movement plus interest in Hawai'i as a mission field.
Mill's went to Andover Theological Seminary at Andover, Massachusetts and brought Henry with him. There Henry made his first attempts at prayer, and his interest in becoming a Christian deepened. For several years he stayed with Christian families in New Hampshire and Connecticut, growing in the Lord, and in 1817 Henry joined six other young Hawaiian men and other foreign students at the newly created Foreign Mission School at Cornwall in western Connecticut. Edwin Dwight greeted the students, as the principal of the school.
At the school Henry's goal of being a teacher of the Gospel in Hawai'i began to appear within hand. His studies in Hebrew and English allowed him to translate the book of Genesis into Hawaiian, and support for missionary work in Hawai'i increased as knowledge of his studies spread.
Henry spoke in many New England churches, challenging young men and women to go on missions outside of the United States, and raising funds for a mission to Hawai'i. He actively sought to return to Hawai'i as a Bible teacher, and felt a pressing need among the Hawaiian people for salvation. However, it was not to be, for within a year of the opening of the school Henry died of typhus fever and was buried at a hillside cemetary nearby the Foreign Mission School in Cornwall.
In death, Henry's vision for Hawai'i was widely read about in the popular "Memoirs of Henry Obookiah." The slim book was a best-seller with over 50,000 copies distributed through the 19th century; readership was estimated in the hundreds of thousands.
In 1819 the brig Thaddeus left Boston Harbor with the first company of missionaries to Hawai'i. Aboard was Thomas Hopu, Henry's friend from the island of Hawaii. In April, 1820 the missionaries landed at Kailua-Kona.
At Henry's funeral, the Rev. Lyman Beecher said of the Hawaiian Christian's life: "If the churches of New England, knowing the purpose of God concerning Obookiah, had chartered a ship, and sent it to Owhyhee on purpose to bring him to Christ, and fit him for Heaven, it would have been a cheap purchase of blessedness to man, and glory to God."