Pete and Bev Caruso
Rancho de la Paz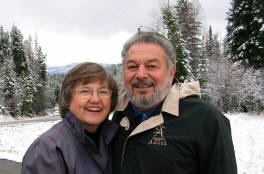 What a wondrous time of year to pause and remember, …the blessings of the year -
oh, so many
, …the precious Gift of God's love which, of course, is the
Reason for the Season
, …and also those we love -
Y
O
U
!
Because Jesus came those many years ago, we have forgiveness, a place in His family, and a purpose for our lives.
We don't want to fail to give thanks to God for blessing us with:
Continued good health that allows us to keep up a busy ministry schedule – at 67 and almost 71, that's definitely not to be taken for granted.
Our family:
Three great kids and their wonderful spouses.
Seven – soon to be eight – grandchildren, and those who married the three oldest.
Six adorable great-grandchildren.
Friends and extended family – more precious to us each passing year – that's

y

o

u

again. (We've already heard from some of you and eagerly check the mailbox and our emails for word from the rest.)
A home to enjoy and to share with others. Here at

Rancho de la Paz

we still house traveling missionaries, and ministers needing a place for some R & R in our six guest rooms.




Opportunities to share with others that which God has deposited into our lives:
Several seminars and churches in New Zealand early in the year.
Marriage Seminars locally in SoCal – two of them in ethnic minority churches.
In the spring we'll be in northern Uganda where missionary friends have planted works in 50 refugee camps. We'll be training over 50 national pastors who work inside the camps – in the areas of Biblical Principles of Marriage and Family - two groups for five days each. We'll do additional ministry in Uganda and probably Kenya, as well.

In the fall we'll be in several countries in Asia where we'll be training pastors.
As you can imagine, the airfare to Africa and Asia is way outside our normal income. We recently learned that anyone can buy (up to 40,000 miles in a year), or share their own AAdvantage air miles (up to 100,000 miles per year), toward our American Airlines frequent flier accounts. Sharing miles doesn't cost anything.
Purchasing miles would mean $3 worth of travel for each $1 spent (when used for upgrades on overnight flights – there are two such flights to/from Uganda.). Plus, our accountant assures us that you can receive a tax deductible receipt for either transaction. American Airlines has suspended their normal mileage limits and their normal $30 transaction fee for these programs until December 31, 2007.
If you'd like to help us toward one of these trips, our accounts are Pete: DWK5718
&
Bev: DWK5294. Just go to:
www.aa.com/content/AAdvantage/programDetails/purchasingMiles/purchasingMiles.jhtml
or call: 800-882-8880.
We pray you'll have a blessed Christmas season and that 2008 will be a year filled with joy and fulfillment for you.
Love,
Pete and Bev