Let's Get ONE Thing Straight
by David B. Hall
Although I'm not from the hood
It's true I was born in Inglewood
I can now appreciate rap and poetry
though I was convinced it wasn't for me
=
Let's get one thing very straight
We ALL see the world from our personal state
What you see isn't always what you get
Some things are deceptive, some times not ligit
our view of the world has been shaped
by friends, family and of course our mates
by parents, movies, tv and song
teachers, journalists, and the list goes on
That's why it can be helpful to
think outside the box

and learn from that incredible school of hard knocks
For those who've truly
made their mark
on our planet
are folks who wouldn't believe they couldn't
They didn't go along with the mold
They ventured to regions untold
They didn't follow the rest
they refused to settle for second best
It can be helpful to try to see things
from a totally different point of view
Put on a pair of blue shades
and the whole world looks blue to you
Why do we think that the
RIGHT
way to view the world
has to be with the north at the top?
Yet when we try to look at the world with the south at the top
believe me, we can hardly recognize the lot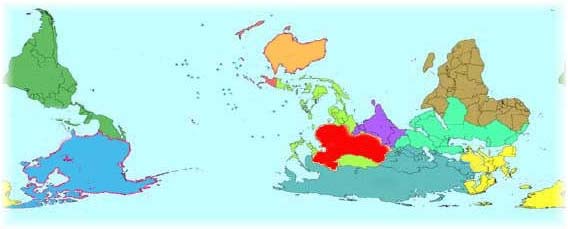 A good goal: read the Bible - to help you know and grow
Try to view the world - and stuff going down so
even all that is bad and sad
from God's perspective and plan
---
Why do we choose to stay with the familiar
Only to limit ourselves to a box that is similar
Not reaching out to a world that is thirsting
Nor sharing our life with those who are hurting
Jesus told us there's only two roads we can choose
one with lots, the other only a few. On which road are you?
Do you really know where you're going?
Or is it with the
in crowd
you're flowing?
The holy book says: There is a way that seems right to a man
but the end of that way is disastrous, unplanned.
So it might be wise to get this one thing straight
Who can guarentee tomorrow and life and your fate?
All of us, like sheep, have gone astray.
We've gone our own way...
Like Frank and the popular song of the day,
we've all gone out and done it:
My Way
.
Isn't it time we follow God's plan?
He IS the
all-knowing,
Almighty! The
I Am
He's given to us His instruction book
We really ought to take a good look
Jesus said,
Come to me... I'll give you rest
And
I came that you might have life and have it
- the best
He stands at the door of your heart, your life knocking
He won't force his way in. He's too nice to be stalking
For your response He now patiently waits
Why not
just do it!
? How? Admit your mistakes
Turn from your selfishness, sin and your pride
Ask Him to be the Lord of your life
You won't be sorry! You won't go wrong
He's sure to give you a brand new song
The
joy of the Lord
will be your new tune
A new life in Jesus and you won't sing the blues
So before it's too late,
why not go on a date
With the One who created you and this place
For when all is said and done, He's going to seal you fate
A friendship is waiting with you and your maker
Your best friend He wants to be, you and your creator
Cross the line. There's still time.
Get
out of the box,
don't put it off
The Saviour is waiting. What will you do?
No one can force this gift on you
Choose this day, His way is plain
Why not get this ONE thing straight?
---