By J. Donald Hall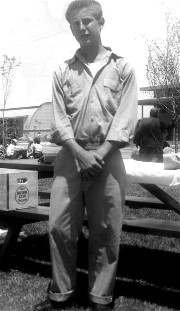 LAKE ELSINORE, California
--
I was a rebellious 17-year-old
in my senior year at Dorsey High School in Los Angeles. While an assembly was taking place in the auditorium, I was called out, in front of the entire student body, by the Vice-Principal and taken to the school office. Two police officers questioned me about suspected drug use and sales. Then they searched my '41 Ford Coupe outside, and found some marijuana and pills. I was arrested, for the fourth time as a teenager, and taken to nearby Georgia Street Jail, and booked. (Pictured: Don at age 15, in Juvenile Detention Center).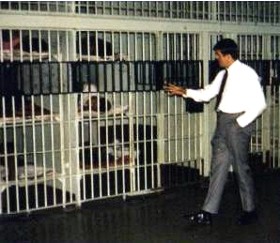 I sat in my 6 x 9 foot cell, both angry and disgusted with myself. Because I had already spent one year behind bars for burglary and grand theft auto, I knew that this would likely be the beginning of a much longer sentence. For the next few hours I sat alone on the hard cot in my cell seriously reflecting on my life. (Pictured: A Chaplain standing next to cell where Don was saved).
That evening, my heartbroken parents once again had to visit their son in a jail. I heard them say through their tears, "Don, we've done all we know to do for you. The Lord can change your life, but you've got to make that choice. He is your only hope." For the first time in many years, I listened to them with an open mind. It started to make sense. Before leaving, my father gave me a bookmark with the story of Jesus written on it called, "
One Solitary Life
."
Back in my cell I read it thoughtfully, along with the scripture verses it included. My hard, agnostic heart began to melt. I found myself down on my knees on the cold cement floor weeping and praying, "God, if you are real, come into my heart...forgive me for all the rotten things I've done...the people I've hurt...change me…and give me a new purpose for living. If you do, I'll serve you the rest of my life!"
A RADICAL CHANGE OF HEART
That was the day - 50 years ago on January 6, 1955 - that brought about a radical change of heart.
In the following months I learned more of the involvement others had in that life-changing night. My Mom and Dad, of course, had been praying many years for me. So too had my grandparents and many family friends who were aware of my rebelliousness. Our church's youth even called a special time of prayer just for me -- and my 6 year-old brother made a commitment to the Lord to pray every day for my conversion.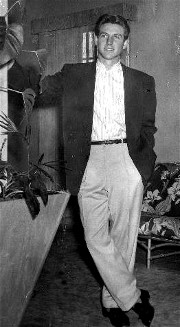 TOUGH LOVE
Some of the men at church urged me to go forward and get right with God, but I had brushed them off. With tough love, my parents gave me an ultimatum -- attend church weekly, no drinking or smoking around the house, and keep the curfew -- or move out. At only seventeen, where would I go? Finally, the Saturday before I was arrested, my father and grandfather from Denver, requested prayer for me at the weekly businessmen's breakfast at Clifton's Cafeteria, in downtown Los Angeles. Five days later God answered their prayers! (Pictured: Don as Student Body President at Vanguard University).
Months after my conversion, my sister was helping in the Sunday School office and came across an earlier notation from our youth pastor after a home visit. He had written, "
Hopeless!
" only a short time before my arrest. I will be forever grateful to my Lord for His forgiveness and love, and to the many others who helped rescue me, a hopeless rebel, from the clutches of Satan.
A CHANGED HEART
Along with a changed heart, God soon planted a strong desire within me to help others. As a result, over the years we have been privileged to share God's love in the slums of inner-cities; preach freedom in Christ to prisoners; discuss life issues on school campuses; provide ministry to churches in cities and tribal villages; offer hope to the sick and hurting; train future leaders in third-world nations; encourage US military troops; and help rescue many troubled and addicted youth. What a blessed privilege from my Lord.
"What Satan meant for evil, God turns it into good!"
Don's ministry is available for conferences, seminars, retreats, and missions services -- also community programs in schools, prisons and civic clubs. Don can be contacted at:
No parent should ever feel that there is no hope for their addicted loved ones,