ASIA OUTREACH MINISTRY REPORT
Missionaries

Don

and Patti

Hall




~~~~~~~~~~~~~~~~~~~~~~~~~~~~~~~~~~~~~~~~
Dear Friend and Prayer Partner,
Special Christmas & holiday greetings in Jesus name -- the real reason for the Season!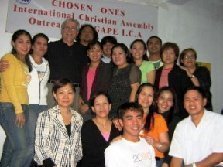 Many of you prayed for our strategic outreach during November to the Asian nations of Taiwan, Thailand, Burma and Pakistan - and some helped to make it financially possible. In behalf of hundreds of precious lives who were impacted with the Gospel, we express our deep appreciation.
Photo: Dan at Filipino church in Taipei

Don
was joined by family member,
Dan Van Arsdall
, a former pastor with a heart for missions. Together they set out on a rigorous schedule of training and evangelism programs, in mostly Third-world conditions and political unrest. Here is their report: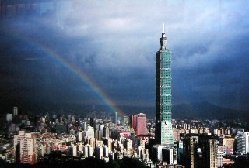 TAIWAN
-- It was a joy to be with missionary friends,
Harry & Kay Leid
, who pastor the International Christian Assembly and its outreaches in the city of
Taipei.
Four services were held where hungry hearts were touched by the Lord. ICA has nearly 20 nationalities who are a part of the ministry, with a strong Filipino constituency. A short break allowed us to visit the National Museum, filled with antiquities from China - and "Taipei 101", the world's tallest building!
Tallest Building in the World - Taipei, Taiwan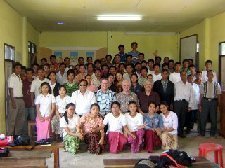 MYANMAR (BURMA)
-- In Bangkok, Dan and I were united with another friend,
George Butron
, Area Director of Foursquare Missions. From there, the three of us flew to northern Thailand within the
Golden Triangle
- noted for its huge trafficking of heroin and meth by powerful drug lords. The next few days in Burma we providing training to over 50 church leaders. We were truly humbled by their dedication. In spite of the threat of arrest by the atheistic military regime in Myanmar, these pastors are a special part of a church growth phenomena taking place throughout the country.
Burma Church Leaders Conference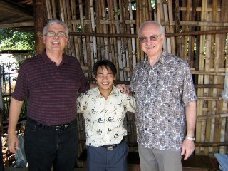 A young pastor, we call "Buffalo Boy", told us an amazing story
of how his village church grew overnight. It had remained less than 25 people for a long time until a family's water buffalo disappeared. The church prayed for the animal to return and not be harmed or stolen. Several days later the buffalo showed up to the surprise of all the village people. They saw it as a miracle. The next Sunday, and every week since, over 100 pack out the church!
"Buffalo Boy" with

Don

& Dan


PAKISTAN
-- We arrived 3 days before
President Musharraff
declared Emergency Rule, and in the midst of thousands of protestors being arrested - yet we felt the Lord's protection everywhere we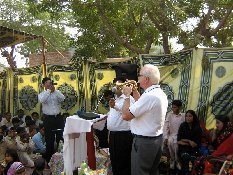 went. 15 programs were held, including a public school and Church Leadership Conference. Most of the others were open-air services, sponsored by a network of churches led by
Pastor Haroon Bhatti
. Program sites were mainly in remote villages in the state of Punjab. Although a temporary ban on large public crowds had been declared, usual attendance was still in the hundreds. Those who came were among the nations poorest struggling to survive - and dear to the heart of God.
Many accepted Christ as Savior and others received prayer for healing from various afflictions
. Spiritual hunger and simple faith resulted in an outpouring of God's grace.
Don playing the Pocket Trumpet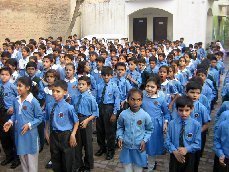 That same grace was also felt as we dealt with the chaotic conditions of Pakistan -- the political turmoil, air-pollution at its worse, indescribable traffic and road conditions, and a steady diet of hot chicken curry that eventually took its toll. Yet the two of us felt honored to be His servants to communicate a message of hope and God's love to the people of Pakistan.



Thank you for being a part of this and other mission outreaches during the past year through your prayers and loving support. 2008 promises even greater blessings. Please pass on any prayer requests that you or your family may have so we can partner together in prayer. We care - and are here for you.
With much Love and Appreciation,

Don & Patti Hall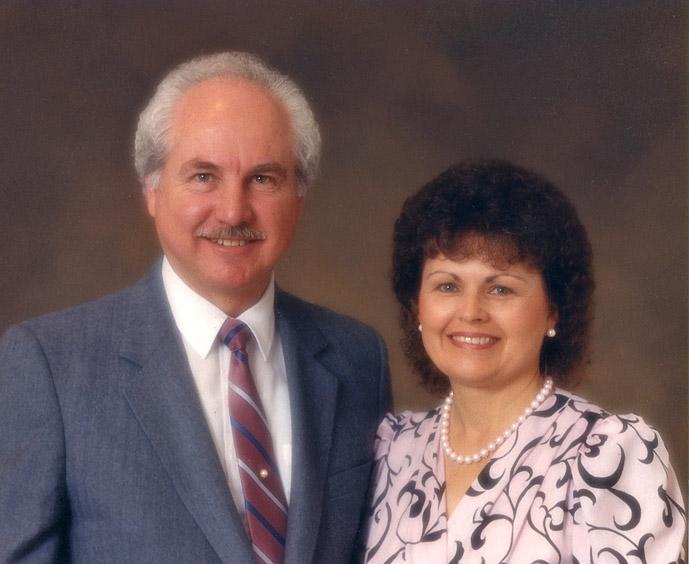 Contact Don & Patti Hall


17 Corte Montena, Lake Elsinore, CA 92532 USA
Ph: (951) 471-3180 / (951) 361-6457 - Fax: (951) 471-3180
EMAIL Donhall@across2u.com